Desktop-based SEO tools are not a sexy choice as your main SEO weapon. However, it doesn't mean that you shouldn't use them as they nonetheless help you develop strategies and campaigns for your site or clients. But here's the question: can we say the same for Traffic Travis?
TRAFFIC TRAVIS REVIEW: VERDICT
Summary
Traffic Travis is a desktop-based SEO software that allows you to monitor projects, track their keyword rankings across different search engines, research for your competitors, find the best keywords to rank for, and more. The Professional plan lets you create unlimited projects and track unlimited keywords on SERPs. On the downside, the SEO research function loads very slow and the Link Finder is almost useless in terms of finding link opportunities. That said, if you need a tool to track keyword rankings, then Traffic Travis is a good and affordable place to start. SIGN UP FOR YOUR PROFESSIONAL PLAN HERE!
You're reading this Traffic Travis review because you're curious as to what this SEO software can do for you.
Compared to most SEO tools nowadays, Traffic Travis is a desktop-based tool that you need to download and install in your CPU.
It's definitely on the "old school" side of things. But that doesn't necessarily make it any less of an SEO tool.
The more important question you should be asking is this:
Does it work?
That's what we're here to find out too.
In this Traffic Travis review, you will learn
what the tool is all about
how to use the different features of the tool to help your site's SEO
its pros and cons
who benefits the most from using this tool
Let's do this!
---
Setting up Traffic Travis
Unlike most SEO tools nowadays, you need to download the software to your CPU. That means you can only use Traffic Travis on the CPU where you downloaded and installed the tool.
To do this, go to their site* and click on "Free Download."
Once you've signed up and are downloading the file from your browser, you will receive an email that indicates your registration code.
After downloading and installing Traffic Travis on your CPU, you must enter the registration code to use the free version of the tool.
But before you create a project and conduct your research using Traffic Travis, you must log in to your Google Ads account to research for keywords.
To do that, click File > Options, then select the Google Ads tab from the pop-up windows to log in.
Click "Test Google Ads Login" to load the Google Ads login page. Enter your email and password to load the Google Ads Keyword Planner on Traffic Travis.
Features
People judge SEO tools based on whether or not they can help site owners improve their SEO workflow. This includes gathering relevant data to help users make informed decisions for ranking higher on search engines.
As a desktop software, Traffic Travis aims to do just that. And I'll show it to you if it's something that you would like to use yourself.
Below are the multiple features that you can access using the tool:
Project management
Upon logging into the software, click on "Create a New Project."
On the next page, fill out all the details to help Traffic Travis track your site much better.
Make sure to choose the most relevant search engines that you want Traffic Travis to track your site with.
The cool thing about Traffic Travis is you can track your website on Yahoo! and Bing. I know that Google is the top dog when it comes to search engines, but it's not the only game in town.
You can still rake in traffic if you optimize your site on the other two search engines, and Traffic Travis allows you to monitor your movement.
Now, if you want to tweak the frequency on how Traffic Travis will monitor your website on search engines, click the Update Settings tab.
Monitoring all the key metrics above are free except for Link Analysis. You'll need to subscribe to its Professional plan to unlock this feature.
Now, if you want to track the search positions of your videos in organic search, enter their URLs onto the text box in the Video Rankings.
If you're using Traffic Travis for a client, you can auto-generate reports for sending. Choose the type of report you want to send and its file type. Then decide the time and date when the report will be sent to the recipient.
If you have a Google Analytics account for your site, you can connect it here as well to produce more precise results for your website. It's also a great way to combine the data produced by both platforms to improve your workflow.
To connect your Google Analytics with Traffic Travis, you need to generate an authorization code from the software to enter in Google Analytics.
Once you have obtained access tokens to the different properties in Google Analytics, choose the one that you want to track.
From there, you want to double-check the Miscellaneous tab and see different factors that you want to track.
Once finished, click "Save Project."
After giving the software a few minutes to fetch information about your site, you will see something like this:
You will see a general overview of the site and its most vital SEO metrics.
If you want to send a report to your clients or download a copy for yourself, click on the PDF icon on top.
Setting up a project using Traffic Travis is pretty easy and straightforward. The biggest advantage is it lets you track Yahoo! and Bing databases if you're looking to diversify your organic search traffic. Changing the frequency of the updates for your keyword rankings and site pages is also a big plus.
At this point, we're just getting started!
For the next step, we need to analyze the SEO performance of each page on your site.
On-page analysis
Click on the My Site tab from the dashboard. It will show you the pages indexed by Traffic Travis and details the different SEO metrics of each.
The first columns after the first one (Page Authority) are from Moz. They help identify the quality of the page according to on- and off-page SEO factors.
The Backlinks column reveals to you the number of backlinks a page has. The higher the numbers are in both, the better!
The Page Warnings column is arguably the most vital one in this feature. It shows you the different on-page factors and which ones each of your pages missed out.
If you click on any of the numbers in the column, you will see something like this:
From here, you will see the exact things you forgot to do to optimize each page. Use the information here to correct the issues and make your pages SEO-friendlier.
If you're done fixing them, you can update the results to reflect the changes you made.
The SEO Warnings column details crucial SEO errors on each page that require your utmost attention. But as long as there's nothing there just like in the screenshot above, then there's nothing to worry about.
Traffic Travis's on-page analysis features is a good way to stay on top of your SEO game. It doesn't break down your content into different on-page factors like others. However, it does list down the most important ones so there's no need to worry on your part.
Keyword and domain research
If you want to research potential keywords to rank for your content or create a new one from scratch, Traffic Travis has the Keyword Research tool at your disposal.
To access, click on the Research tab. By default, it loads the Keywords module.
Enter the keyword by click on the text bar and copying and pasting your keyword list here.
For a free account, you can only enter up to five (5) keywords and 100 keyword suggestions/ideas. For the Professional plan, you can enter as many as you like and get as many as 2,000 suggestions.
That sounds good and all, but here's the thing:
I can't get the keyword research tool to work!
I've entered different keywords to get it to work. Unfortunately, I encounter the same error every time:
I tried fixing it buy following their FAQ but to no avail.
I just escalated the issue to their customer support and see if we can find a solution to the problem. All the suggestions the support team shared with me didn't work.
I won't fully judge the Keyword Research feature simply because I can't get it to work. But it doesn't look well for Traffic Travis.
Under the Research tab is the Domain feature. Traffic Travis will help you find available domain names using your target keywords.
You can also choose the domain extensions that the software will look for in its search.
If you click on the Advanced Settings link below the FETCH button, you can replace the spaces in your keywords with hyphens or a mix of both. You can also add additional words that the software will factor into its search.
Once you've chosen the top-level domains and fetched for the results using your keywords, you will see something like this:
It shows you the list of domains according to the keywords you entered and whether or not they are available for purchasing.
This would be useful if you're planning to create a site that's specific to your keyword.
However, limiting your website to your keyword prevents your site from growing into something more. That's why it's better to use a brand name for a website instead of a keyword.
As mentioned earlier, I will reserve judgment to Traffic Travis's keyword research module because I can't get it to work. This reason is also why I simply cannot recommend this feature to people. If I can't get it to work even with the help of customer support, then that tells you a lot about the software and its usefulness. Regarding the domain research feature, it's really no longer relevant to use keywords for your domain name. Chalk this feature as another loss for Traffic Travis.
Link building and analysis
Going back to the My Site tab, you can check out the backlinks your site pages have by double-clicking on the number.
You can also break down your links to see the PA, IP address, and anchor text of each.
The Link Overview section shows you the pages with links and their respective link equity. Having this information allows you to distinguish the quality of each page based on their backlinks.
Now, if you want to build links to your site, then you need to use Traffic Travis's Link Finder feature.
The tool will help you find link partners using the keywords you entered in the search bar.
In theory, this sounds like a great idea. You no longer have to manually scour for link opportunities because the software aims to do that for you.
Once you've run your search query you will find yourself solving Google CAPTCHAs more than once.
This is one of the issues of using desktop-based SEO software.
Google will detect high activities on your end due to the manual queries to tool runs for you.
And you need to solve all CAPTCHAs to proceed with the fetching of data.
Granted, there are services that verify the CAPTCHA for you but it costs money. But if you're after efficiency then you wouldn't mind shelling out extra cash to get this done for you.
After minutes of going through the CAPTCHA, here's what you'll see if you fetch data using your keywords:
The results show URLs based on your keywords where you can place your backlink.
Each URL is organized according to query (directories, resource, guest posts) so you have an idea on how to reach out to each site for a backlink.
The results also show the PA of each URL so you know which sites to go with first for a backlink.
Now, this all sounds great. But, it fails on every level in my opinion. Here's why:
The queries are inaccurate.
Most of the sites are labeled are "directories" and "resources" when they are neither.
For example, Traffic Travis labels The Jackson Sun, a news outlet that is part of the USA Today Network, a directory site.
Here's another one:
The software considers a sitemap as a directory!
Oh dear.
Also, it doesn't account how users can sign up for these sites.
Getting links is not just about identifying the type of link you can get from the site.
You also need to understand the varying degrees of difficulty in getting a backlink from a specific site.
On top of that, you need the email addresses of the site owners, the links where you can submit the guest post, and other variables required for acquiring a backlink.
I'm aware that not all link building tools are perfect, but Traffic Travis misses the mark by a mile that all the deficiencies fo the Link Finder are magnified. I simply cannot recommend that feature to anyone.
Link analysis is passable but it doesn't help me understand what I need to do with my links. The interface of this feature doesn't make things easier either. As for building links using Traffic Travis, forget about it.
Rank tracking
To see how your page is performing on SERPs for your target keyword, click on the SEO tab.
It shows you a table of pages from your site ranking from highest to lowest.
Aside from the keyword, you can see the search engine that the page is ranking for, the database location, and the current rank.
Track and monitor the keyword rankings here if the changes you made on the page made any difference in their respective search positions.
If the keyword you entered in the project doesn't show any data here, it means that you need to do more work in optimizing the page for the keyword.
Even with the free plan, Traffic Travis's rank tracking tool works like a charm. You can only track 30 keywords with your free account. For the Professional plan, however, you can track unlimited keywords. You can also edit the frequency for monitoring your search rankings daily, weekly, or fortnightly. Finally, you can track your search rankings across the top search engines so you can fully optimize your site on all three.
Competitor analysis
Aside from the on-page analysis feature above, you can analyze the keywords you're trying to rank for using the Competition feature under the SEO tab.
What it does is scan the top 10 pages ranking for the keyword and provides you insights about it.
For example, here are the results I fetched for the keywords I'm trying to rank:
The Difficulty column says everything about the keyword. It shows you how easy or hard it will be to rank for the search term.
The score of each keyword's difficulty comes from different SEO metrics found here such as Page Authority, Backlinks, and more. Traffic Travis reveals to you the average and median scores for each to help you understand the competition you're up against.
In this case, if the keywords you're trying to rank for are difficult, you may want to consider optimizing and ranking for an easier one.
You can dive deeper into each keyword by checking out the report.
Aside from the page's PA and backlinks, you also get to see the metatags and social shares of the ranking pages.
The competitor feature under the SEO tab is as simple as it gets. It breaks down the top 10 pages ranking for the keyword you entered and shows you its average SEO metrics. However, it really doesn't say much beyond that. It's an okay way to determine whether to optimize for a keyword or not based on the competition. But it doesn't help you so much on how to outrank them.
Pricing
Traffic Travis comes into two forms: the free version and pro version.
The features discussed above are from the free plan. So if you like more juice from Traffic Travis, then you'll enjoy the paid version.
Below is a screenshot that compares both versions what you'll get if you subscribe to the Professional version:
The Professional version costs a one-time payment of $97USD. That's less than most SEO tools and we're not even considering the other months you'll have to pay for it!
However, the price comes in the territory of being an SEO software that people download into their CPU.
Because, as affordable as Traffic Travis is, it has limitations as well.
For one, you can't access the tool unless you're using the same CPU where you installed it.
Also, the speed of Traffic Travis depends on the specs of your CPU. So if you have a slow-loading computer, then expect Traffic Travis to load just as slow — if not slower.
Obviously, some people won't find these limitations as problems if they exclusively use their CPU with incredible specs.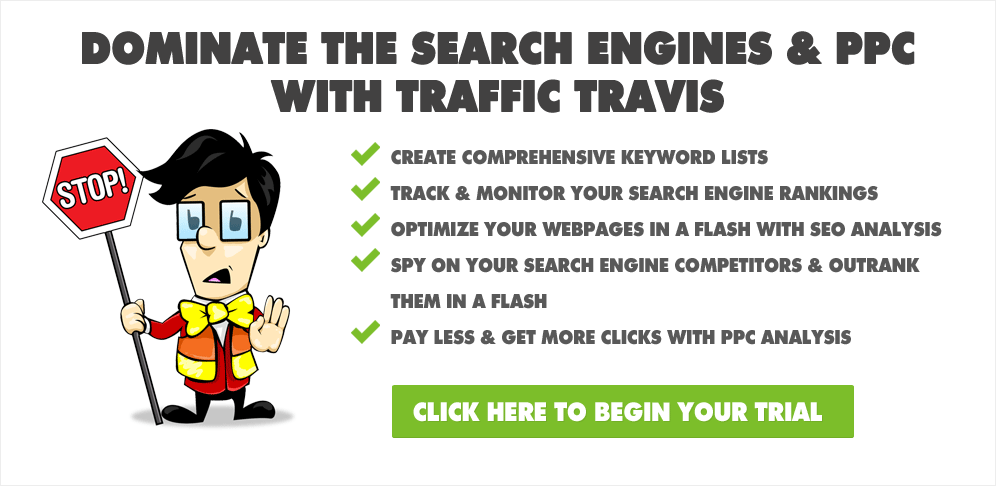 And if you're one of these people and are looking for a more budget-friendly internet marketing software, then Traffic Travis is right up your alley.

Pros and cons
As mentioned multiple times in this review post, Traffic Travis is a desktop-based software that you need to install in your CPU first before you can use it.
Compared to cloud-based tools like SEMrush where you can log in to your account regardless of the computer you're using, you need to use the computer where you installed the software in order to use it.
We've also touched upon the advantages and limitations of a desktop-based software.
That said, we're not going to weigh those factors in to determine the pros and cons of the tool.
What we want to talk about here is whether or not Traffic Travis produces the data you need to help you improve your SEO performance.
At the end of the day, that's all that matters.
Without further ado, let's get on with it!
PRO: Tracks Bing and Yahoo! database
Google remains the search engine in the market. Ranking on top of its SERPs will yield hundreds and thousands of traffic to your site. However, Yahoo! and Bing are nothing to scoff at.
If you play your cards right, ranking on these search engines for your keyword can help you rake in additional organic traffic. Traffic Travis lets you do this without breaking a sweat.
By clicking on the SEO tab, you can immediately see the keywords you're ranking for which page on your site across all three search engines.
I mentioned earlier that desktop-based SEO software is slow because the speed is dependent on your CPU specs.
Still, it's inexcusable to wait for 5-10 minutes if not more to generate data from each query that is reliant on Google. Aside from that, fetching URLs require you to be in front of your screen because you will have to work your way through multiple CAPTCHAs.
There is an option to use paid CAPTCHA solvers like Death by CAPTCHA, but that's another problem you need to worry about when using this software.
PRO: Powerful rank tracking software
Traffic Travis as a rank tracking tool stands well enough on its own. The Professional plan allows you to track unlimited keywords.
You can also tweak the frequency when the software will check search engines for updates, giving you full control over how you monitor your website's search rankings.
CON: Useless Link Finder data
Tools and software that try to automate link building only set themselves for failure. The same can be said with Traffic Travis.
Running the Link Finder data is not only cumbersome (you'll have to get through more than one CAPTCHA to complete a search query). It also provides you with inaccurate data.
The software gives you a list of URLs where you can submit your site for a backlink. However, the classification for each link under the Query column is mostly incorrect.
Plus, it doesn't really tell you how to acquire a link from that page. So you waited a couple of minutes for URLs that have little to no use to you.
PRO: Decent on-page checker
Upon creating your project, Traffic Travis shows you Page Warnings to improve on to make your site perform better in organic search. Work your way through the indexed page and see if your efforts help increase your ranking on SERPs.
CON: Keyword research not working
I tried entering different words in its keyword research features and it keeps saying that it can't find any suggestions.
Traffic Travis review: Verdict
Traffic Travis is a decent software that lets you manage your website's SEO by tracking its keywords, analyzing site pages, and research for your competition.
At best, it's a very affordable rank tracking tool. For a one-time payment of $97USD, you can track unlimited keywords across Google, Yahoo!, and Bing databases.
If you manage lots of SEO clients, you can simply use the Traffic Travis Professional plan to monitor their keyword ranking. You can then set up the software to automatically send PDF reports directly to clients to keep them updated.
Even if you don't get the Professional plan, Traffic Travis remains a capable software for tracking 30 keywords from a maximum of two projects.
It works as a very good SEO software for beginners who want to get their feet wet with SEO but don't want to shell out money just yet.
Now, onto the bad stuff…
There's nothing wrong about Traffic Travis being a desktop-based SEO tool. As long as it helps you organize your process and deliver the data you need to improve your site's SEO, then everything should be fine.
However, it's not fine. Not all, at least.
It runs considerably slow because it generates results from third-part tools (Google Ads). You'll normally have to wait minutes (hours for bigger sites) before you can get the data you need.
To make matters worse, you need to work through the Google CAPTCHAs to proceed with your query.
Overall, it's simply not a very efficient tool for SEO research.
Also, the Link Finder fails to muster link partners that meet your needs. The results feel like a hodgepodge of URLs hoping that something sticks with the users.
Overall, while its SEO research function fails to impress, Traffic Travis nonetheless works great as a rank tracking and reporting features.
Therefore, if you don't want to pony up for a monthly subscription of a premium rank tracking tool, you can defer to this software for that purpose instead.