One of the hardest parts of doing On-page SEO is creating content optimized for your audience and search engines.
Of course, producing relevant content for your audience is good. BUT it's not enough to rank.
You also need to learn how to structure it properly for SEO.
To do this, you can study your competitor's content strategy. And do what they're doing in terms of outline, target keywords, and content structure.
But this isn't easy and time-efficient. The best option is to use a tool to help you in the process.
I want to introduce a powerful SEO tool to you! In this article, you'll learn what Surfer Content Editor is, what it does, how to use it, and its features.
What Does a Surfer SEO Content Editor Do?
Surfer's Content Editor is one of the features of Surfer SEO, arguably one of the best content optimization tools in the market.
It's like an upgraded version of a Word document. It allows you to optimize your content as you're writing it.
It makes creating and publishing an optimized article for your website easier at affordable prices. PLUS, it works well in optimizing existing content, too.
But how can Surfer do that?
After choosing the keyword you'd like to write about, it will analyze your top competitors' content. Surfer will do the Google search for you. Then it'll show the following to guide you in writing your article:
The ideal length of the content.
The average number of paragraphs, headings, and images.
The words, headings, and NLP you need to use.
Your real-time content score.
NEW! Content brief (I'll explain more on this later).
Let's talk about some of its core features to give you more ideas.
What's Inside Surfer Content Editor
Content Score and Guidelines
The score reflects how relevant and well-written your content is based on your target keyword. And the guidelines show you what to do to improve the score.
Content score meter ranges between:
0-33 (red). Low-quality and irrelevant.
34-66 (orange). Either good-quality but irrelevant OR relevant but poor-quality.
67-100 (green). High-quality and relevant.
Recently, Surfer updated the feature to fix discrepancies. And added a more detailed view to track your progress. You can now identify which part is lacking making it easier to achieve a perfect score.
Here are the categories and what you can do to improve them:
Structure
Make sure to reach the word count, number of headings, paragraphs, and images proposed by Surfer SEO. Remember, this is based on your top competitors' content. You need to follow what they're doing right.
Headings
Use your keyword on your title (H1 heading). Check and use the phrases under the "Headings" tab.
Terms and NLP
NLP isn't available on the Hobby and Basic plan. But these two refer to the words/phrases you need to include in your content. The terms can be seen under the "All" and "NLP" tabs, and they are arranged by relevance.
Do your best to follow the guidelines, and you'll be able to publish an awesome and optimized piece of content.
Pros
Loads of data to work with
Content Editor Helps User Achieve SEO-Driven Pages
Exporting data is a breeze
Cons
Daily quota limits a drag
Surfer SEO is the gold standard of content optimization tools. Its Content Editor has come a long way and is one of the best of its kind – its Content Score and Google Gdocs/WordPress integration allow you to streamline your SEO content creation to a tee. Its Content Planner allows you to audit websites and brainstorm for content ideas. It's simply the most complete SEO content tool you'll find in the market!
Content Brief
Brief is a new feature of Surfer Content Editor. It consists of four sections: notes, content outline, competitors' links, and topics & questions. This is a great tool that can help your writers produce content quicker.
Notes
This is where you can put the information you'd like your writer or team members to know.
Outline
The best part of Brief. Provides an AI-generated outline taken from your competitors' content. You can copy and paste the content under this tab and start from there.
Competitors
This part will show you your direct competitors' URLs.
Topic & Questions
These are from the "People Also Ask" part of Google. Answering these queries helps you rank better.
Competitor and Structure Settings
Surfer Content Editor allows you to choose which pages to analyze. By changing your competitors, the suggested word count and other structure might change.
The reason why it's crucial to modify your competitors is because of search intent. This refers to your audience's goal or intention as to why they're searching online.
Meaning, not all pages on the 1st page of Google are your competitors. You need to choose them wisely to better optimize your content and attract the right visitors.
For example, you want your writer to create a 1,000-word article only. You can modify the word count together with the number of paragraphs, headings, and images under the setting tool.
Surfer also lets you remove or add terms, NLP, and questions for your content in the setting tool. PLUS, you can edit your notes here. Changes will reflect on the Brief part.
Document Share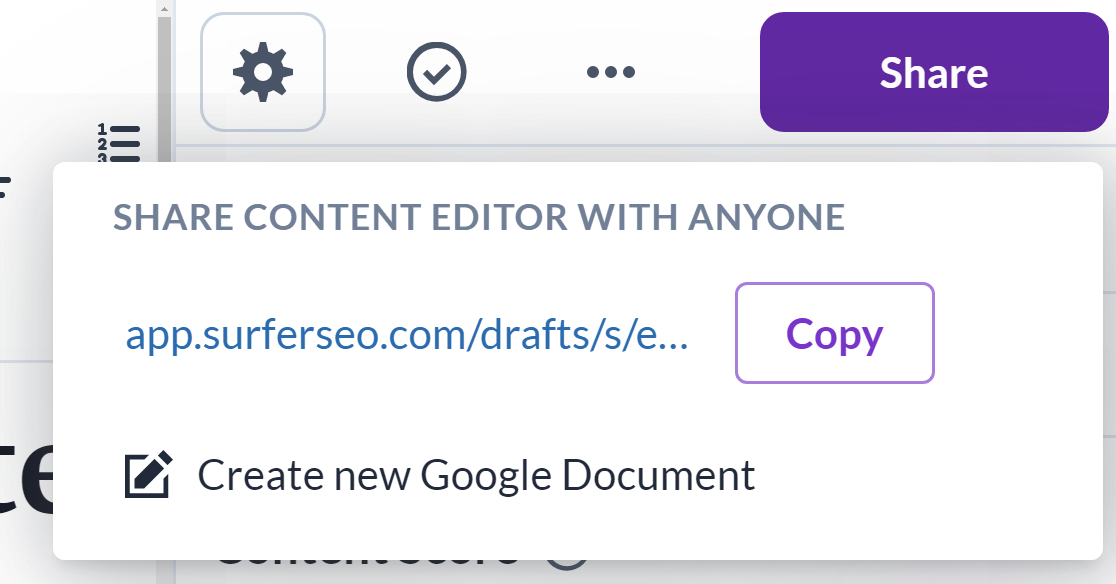 Surfer allows you to share your Content Editor with your writer and other people without extra fees.
It's effortless to do! All you need is to click the share button, copy the link, paste it where your writer can see it, and voila! They can access the document right away.
This share button also allows you to create a new document on Google Docs.
Google Docs/WordPress Extension
If you're not comfortable writing on the Surfer SEO, you can add it as an extension and write directly on Google Docs and WordPress. It works well on both software, so you don't need to worry about anything.
How to Use Surfer SEO for Content Creation Process
Follow these simple steps and create a fantastic article for your audience:
1. Click the "Content Editor" Tab.
2. Type your chosen keyword/s and click "Create Content Editor."
Make sure to do keyword research first to find the best ones to target. To know more about the Keyword Research Tool, read this Surfer SEO Review.
Surfer allows you to type multiple keywords. To add more, press "Enter." You will then have an option:
a. Create two separate content editors; or
b. Create one content editor for two keywords.
3. Click your query under Content Editor History.
Wait for a few minutes to load your keyword. Click the query and it will bring you to the content editor tool.
4. Click the setting icon.
Modify your competitors and content structure as desired. Remember to consider the search intent when choosing top-ranking pages.
Once done, click "Let's Go".
The numbers and words under Guidelines will change depending on your chosen competitors. Add notes for your writer if needed.
5. Check Outline under Brief.
This is optional but it can help you speed up your writing process. If you're having writer's block or you don't know where to start, you can copy and paste the outline and start there.
Since this is AI-generated, check the accuracy of the content and rewrite it to avoid plagiarism.
6. Start writing and optimizing your content.
Aim for a score of 67-100. Increase your content score by:
Use as many terms, headings, and NLP as possible.
Match the number of images, headers, and paragraphs.
Related: Surfer SEO Writing Masterclass Review: Topics Covered, Who It's For and More
3 Tips to Increase Your Content Score on Surfer SEO
Maximize the content optimization and increase your content score by doing the following:
1. Avoid keyword stuffing.
This SEO practice is already outdated, and it can be harmful to your ranking. Surfer SEO provides how many times you need to use the terms. Follow it and make sure that you turn as many words as you can to green. Avoid making them red.
2. Make your paragraphs digestible and easy to read.
Make sure that your article is scannable and enhanced for user experience.
Search engines are becoming smarter in choosing pages that will rank. For example, Google's algorithm includes UX as a ranking factor.
3. Include your keyword in your headings.
Use your keyword in your headings. Also, use multiple headers to make your article easier to read and crawl.
Surfer SEO Content Editor Tool: Conclusion
There are some reasons why Surfer is one of the best tools when it comes to On-page SEO. One of them is their comprehensive and powerful content editor tool.
It's straightforward and effective. So if you want to create better articles that rank, this tool can definitely help you!