In this post are seven of the best tools to automate your SEO competitor analysis. I describe the best features of each tool to help you decide which among the tools is the best one for you.
If you're looking for SEO tools for competitor analysis, you've come to the right place!
SEOs use these for gaining insights about related businesses in their niche.
In case you didn't know, spying is okay in SEO.
In fact, if you're not analyzing your online competitors, then you're missing out on a lot!
By knowing their search positions, chosen keywords, and content plan, you can see how you can improve your own marketing efforts.
You'll also see how well your website compares to what the competition is doing.
And while competitive research sounds like a chore (it is), it doesn't have to be (it's true)!
When it comes to SEO, Ahrefs is one of the best tools in the market.
It provides data that lets you develop two SEO strategies most essential for your site: content creation and link building.
BEST FEATURE: Powerful backlink database filters
Ahrefs prides itself for having the largest link database among SEO tools. It helps you crawl not only your website to monitor your link profile.
More importantly, in this case, Ahrefs allows you to see the backlinks of your competitors to find link building opportunities.
You can check for referring domains of any domain and check the quality of the backlinks in reference to different SEO variables. For example, the higher the DR or Domain Ranking of a site, the more valuable the link is coming from it.
If you can all backlinks of competitors, you can filter the results according to the following:
Link type (redirect, governmental, dofollow, etc.)
Platform (blog, message board, e-commerce. etc.)
Language
Traffic (filter results from traffic range)
Using these filters narrows down prospective link building partners. Therefore, you can focus on acquiring high-quality links for your site in a matter of seconds!
To rank in the SERPs, you need to get ahead of hundreds or thousands of websites that are like yours. SEMrush* is a powerful analysis tool that delivers data and insights to help you get a closer look at your own SEO strategy, as well as that of the competition.
The tool is packed with features that help you to understand the different factors involved in order to get your website to rank. And while the user experience may not be as friendly as other tools, SEMrush makes up for it with metrics and charts that are not available elsewhere.
BEST FEATURE: Traffic Analytics
This feature shows you an overview of the traffic your competitors attract every month. This is an excellent way to spy on your competitors and see how they are performing thus far.
Click on Traffic Analytics on the left and enter your competitor URL of the search bar.
You will see a graph that shows the traffic your competitor garnered over a six-month period. You can toggle the results to show a 12-month period graph or more.
SEMrush even shows you an estimate of different variables only available on Google Analytics such as:
Unique visitors
Pages/visit
Average visit duration
Bounce rate
Lastly, you can also check the traffic sources and geo-distribution of visitors to give you an idea where your competitors are getting visitors and how.
Spyfu is a keyword tool that gives you access to your competitors' profitable keywords. It tells you which keywords your competitors are targeting and paying good money for.
When you know which keywords the competition is trying to hit, you'll be able to choose less-competitive keywords that won't cost you your entire marketing budget.
The great thing about Spyfu is that it shows you your competitor's keyword data for both Adwords and organic search. It allows you to go deeper into your niche with just a basic list of your competitors' keywords.
BEST FEATURE: Intuitive interface
Spyfu is one of the easiest competitor analysis tools to use.
Upon entering your competitor URL in the search bar, the tool greets you with tons of information about the site.
The overview page doesn't feel overbearing despite the barrage of data. If anything, Spyfu gives you access to all the details you need about your competitors from the page.
As good and easy-to-use Spyfu is, its only drawback is the lack of databases outside of the US and UK. If you are researching for competitors outside both countries, Spyfu may not be much of use to you.
Living up to its name, iSpionage is a spying tool that lets you see what your competitors are up to with their organic search strategy.
Apart from keyword research and tracking, iSpionage even lets you in on your competition's ad copy. This way, you'll know how to write ad copies that will convert visitors into buyers.
iSpionage is also one of the few SEO tools around that lets you study your competitors landing pages. By giving you an overview of how the competition is designing their pages, you'll know how to make yours stand out. Plus, iSpionage is always up-to-date so you can accurately size up your fiercest competition.
BEST FEATURE: Competitive keyword research
Comparable to Spyfu, you can spy on the PPC and SEO campaigns of your competitors using iSpionage.
With this tool, however, competitive keyword research is a breeze.
You can see which keywords your competitors are ranking for on top, how many people are searching for said keywords, and what rich snippets of the pages as they appear on Google search.
Best of all, you can group together the same keywords to get an overview of the site's content strategy. Analyze the keywords they use and create a grouping of your own to overtake them on organic search!
Even though there are already plenty of all-in-one SEO tools on the market, Serpstat* is not one to be missed.
The web-based tool starts a lower price point than SEMrush and Ahrefs so it's a good alternative for those who can't afford the more expensive tools just yet.
Despite its affordable price tag, Serpstat delivers with its comprehensive features that allow you to conduct a full-scale competitive analysis.
It lets you know what keywords your website is ranking for, as well as the keywords that your competitors are ranking for that you're possibly missing out on. It gives you the top 100 results from Google search so you can see if you're ranking higher than your competitors.
BEST FEATURE: Missing keywords
Serpstat makes researching for keyword ideas from your competitors extremely easier.
What the tool does is find keywords that your competitors are ranking for that your site isn't.
Enter your URL on the search bar. Go to SEO Research > Competitors to see keywords that you haven't optimized for your site yet under the Missing Keywords column.
Using this information, you can improve your site's visibility on organic search by optimizing for keywords that your competitors rank for in their campaigns.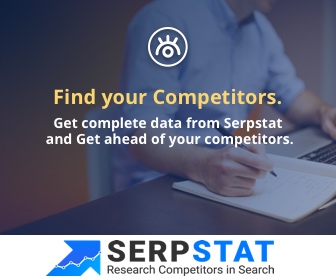 For those who want a cloud-based SEO platform that can help them track their rankings, monitor their backlinks, and do competitor analysis, SE Ranking* is definitely a strong contender. It has an extensive set of tools that can help bring your marketing efforts to greater heights.
What makes SE Ranking different from other platforms is its custom reporting tools that provide clients with all the info they need about their site's SEO performance. Plus, its user-friendly interface makes it a top favorite among beginners and freelancers.
BEST FEATURE: Top organic search pages
While SE Ranking is more of an SEO reporting tool, it's Competitor Research features are nothing to scoff at!
Typing in the URL on the Research page will show you lots of information about your competitors.
One of those is competitor pages getting the most traffic from Google.
From here, you get a better idea of the percentage of traffic the top pages receives from search engines. It also shows the keywords each page is ranking for so you know what you're up against.
Rankwatch* is an SEO management platform that gives you the bird's eye view over all your digital marketing efforts. It's a powerful tool that delivers the exact data that you need to think up strategies and put them into action.
But Rankwatch isn't just for monitoring your own digital marketing strategies. It's also useful for spying on the competition.
It gives you a list of keywords that your competitors are ranking for, as well as how much they're paying for those keywords to appear on the SERPs. With this information, you can then improve your own keyword strategy to get ahead of the competition.
BEST FEATURE: Website analyzer
If you want a quick overview of a site's SEO performance, Rankwatch's Website Analyzer provides a cumulative SEO score in reference to crucial SEO factors such as:
Mobile-responsiveness
Technology
Site speed
Enter the competitor URL on the search bar. The tool will then show which SEO factors the site passed and which ones didn't.
You can also run the Website Analyzer on your site if you want to check areas of improvement on your SEO campaign.
There's an option to download a PDF version of the analysis for easy reference.
SO WHICH AMONG THE SEO TOOLS FOR COMPETITOR ANALYSIS SHOULD YOU USE?
If you're in the market for tools that will help you get the lowdown on your main competitors, these SEO tools for competitor analysis will be useful. However, and as mentioned earlier, you don't have to use all of them at the same time. Just pick and choose the ones that fit your need.
For example, if you want to research the link profiles from your competitors, then you can't go wrong with Ahrefs.
For people looking exclusively for competitive SEO/PPC research, then you'll enjoy Spyfu and Ispionage.
If you want to analyze factors other than competitor analysis, then SEMrush or Serpstat is for you.
Lastly, if you want the same features as the ones above but at lower prices, then SE Ranking and Rankwatch are right up your alley!
Again, there's no wrong answer when it comes to choosing tools for competitive analysis.
Take advantage of the tool's free trial periods and assess for yourself which one works for you the best.
Good luck!
What do you think of this post? What for you is the best SEO tool for competitor analysis? Comment with your thoughts below. Or share this post on social (I will be eternally grateful for the share!).