Looking for a better link-building tool that does great like Ahrefs and Moz but without breaking the bank?
SEO Spyglass might be the one you need! Find out what this tool is, the benefits of using it for backlink analysis, and what are the good and bad sides of using this tool.
What is SEO Spyglass and how does it work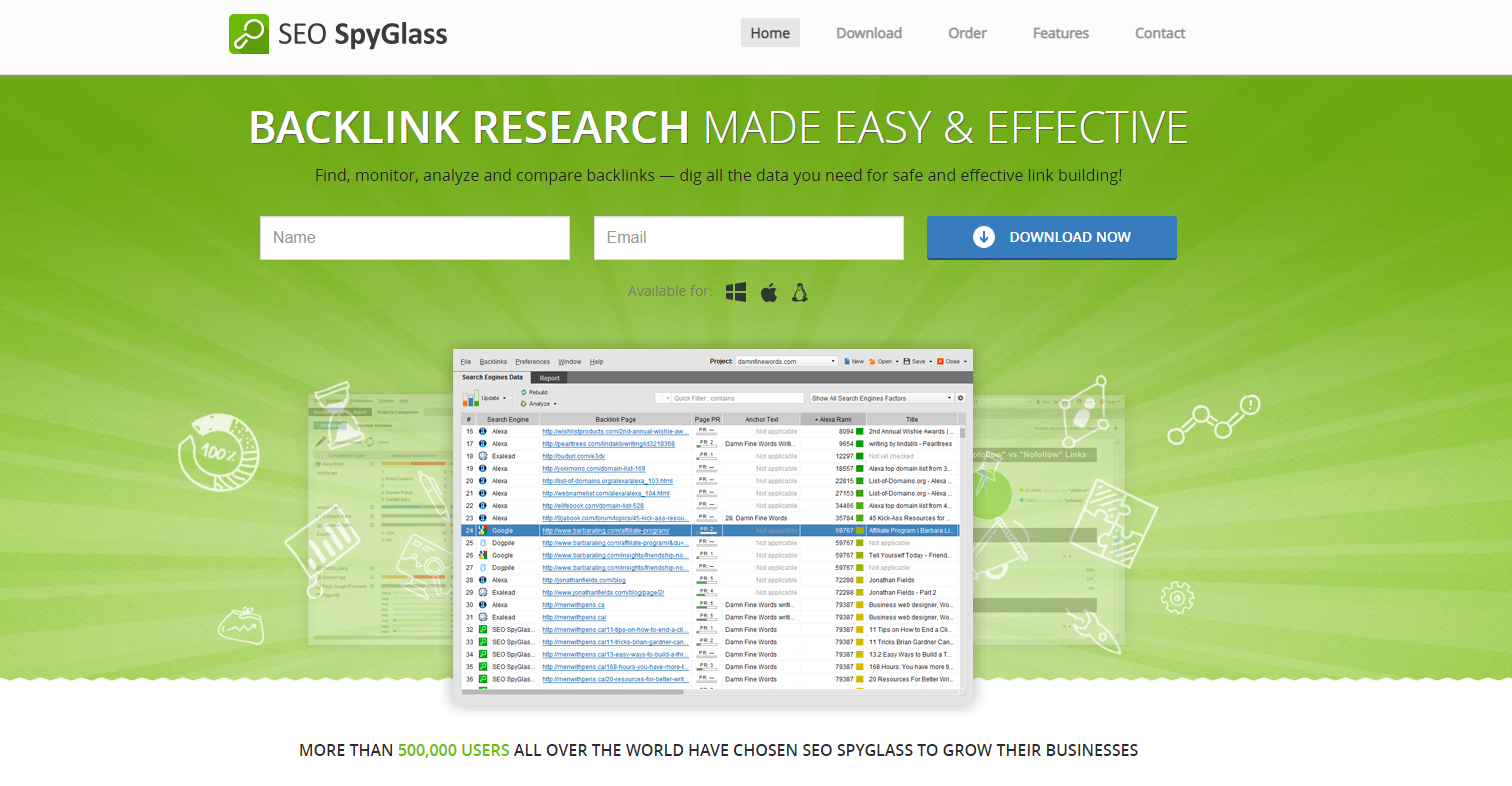 SEO Spyglass is one of the internet marketing tools by SEO Powersuite. If you're not familiar with their set of SEO tools, check this SEO Powersuite review.
Spyglass is an advanced link analysis tool designed to examine any website and its backlink environment. To give you high-quality backlink profiles, it analyzes top-performing pages on SERP.
You can find new link opportunities by discovering sites linking out to your competitors. And also, clean your backlink profile by removing links that are harmful to your sites.
This SEO tool has many unique features that can help you increase your organic traffic and better ranking.
The benefits of using SEO Spyglass
Here are some fantastic features that you can take advantage of:
Disclaimer: We are not affiliated with entrepreneur.com. It's only used for sample purposes.
Get tons of linking building opportunities from external sources and in-house database.
This link analysis tool lets you choose from 145 local and international search engines to find and analyze the best backlink data. You can either choose the search engine you trust or use them all.
Aside from that, this tool also has its own database with over a trillion links and is still growing. What more can you ask for? SEO Spyglass ensures that you'll get enough opportunities when doing backlink research.
Spy on your competitor's backlink profile.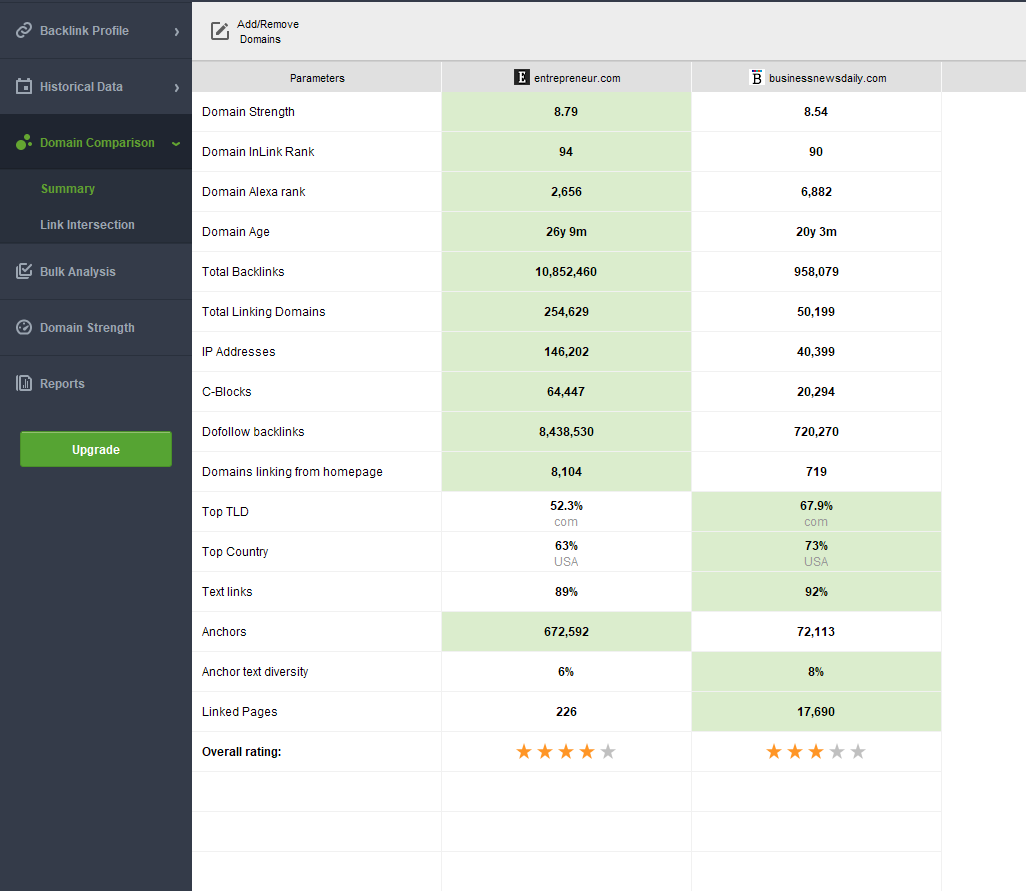 There's a reason why your competitor's link-building campaign is working, and you can identify why using the Domain Comparison of SEO Spyglass. This tool will give you a summary of your competitors' backlink data that includes linking domains, number of backlinks, and dofollow links.
You can also discover potential backlink opportunities through the Link Intersection module of SEO Spyglass. This lets you perform a deeper analysis of your competitors' profiles and shows you common backlinks you both have and backlink gaps.
Find the best keywords to target from your competitors.
Aside from giving you a list of your competitors' referring domains, SEO Spyglass will arrange and provide you with keyword ideas to increase your organic traffic.
Access all your link building efforts using Historical Data.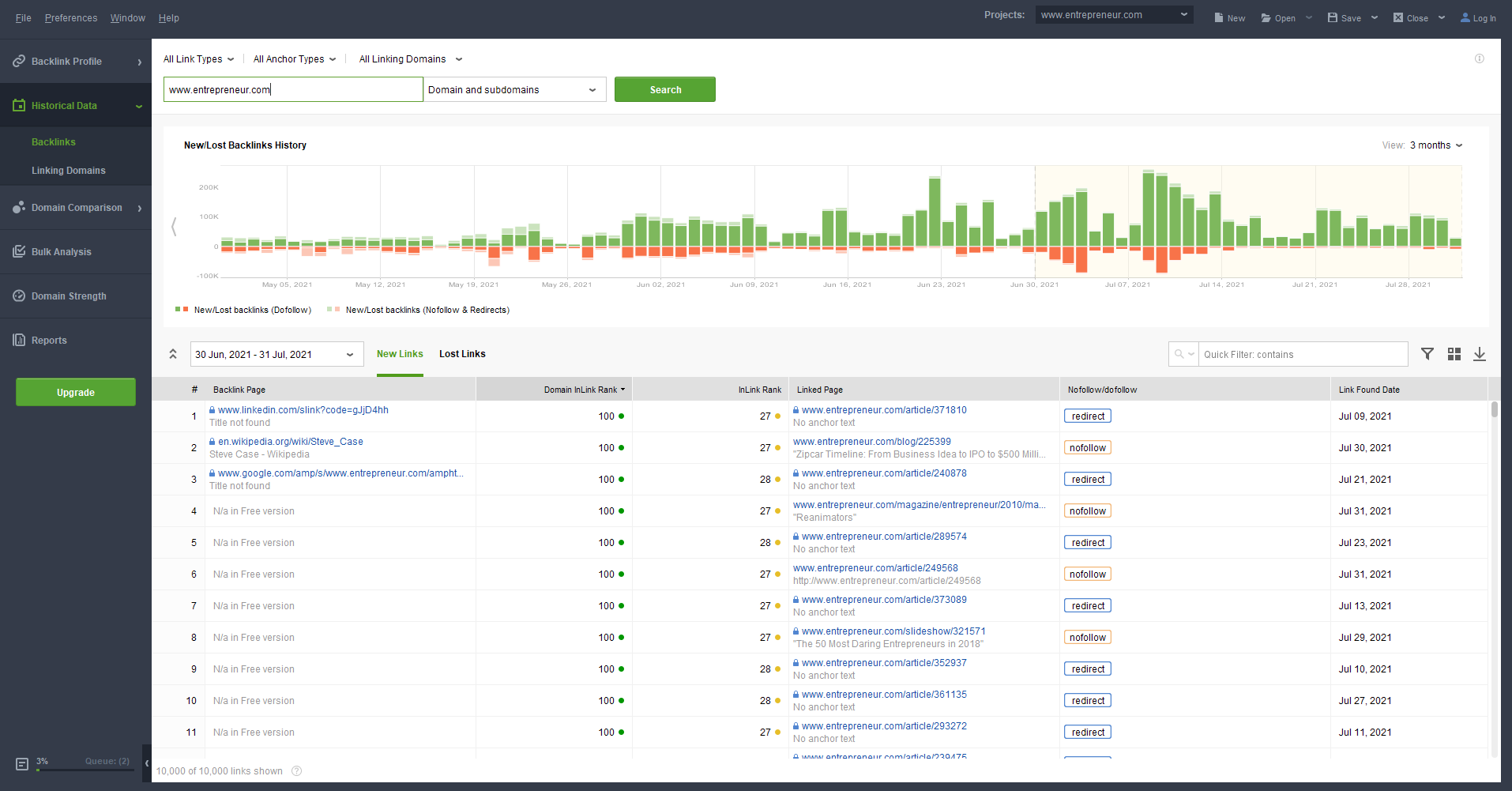 This link-building tool can show which of your SEO campaigns and posts brought you new backlinks. Identify what you've lost and gained and see the progress of your backlink profile.
You can also use the Historical Data to check your competitors' progress. Simply type their URL, and SEO Spyglass will provide you with their entire backlink history for a year.
Store all your backlink profiles in one place.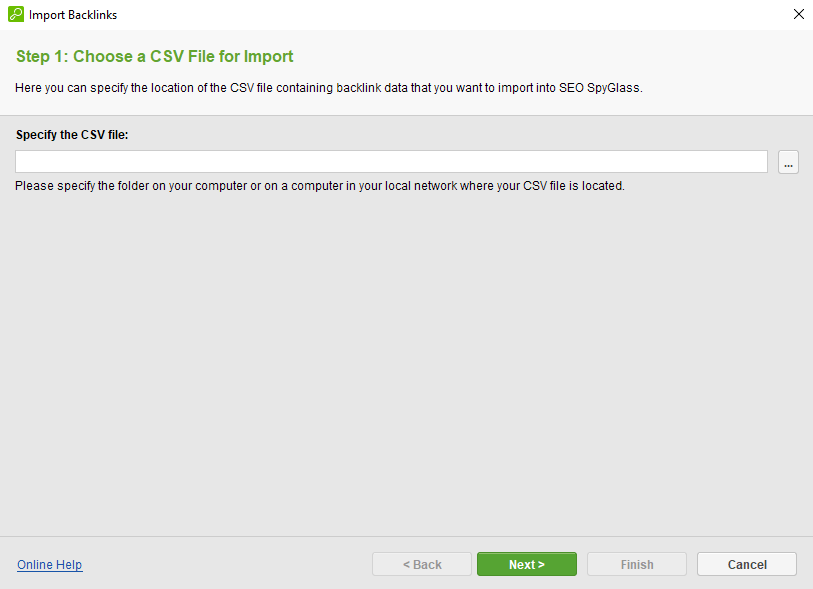 SEO Spyglass lets you get links directly from Google Analytics and Google Search Console. If you use other tools aside from the two, you can simply import them on your SEO Spyglass account via CSV file.
Customizable backlink reports.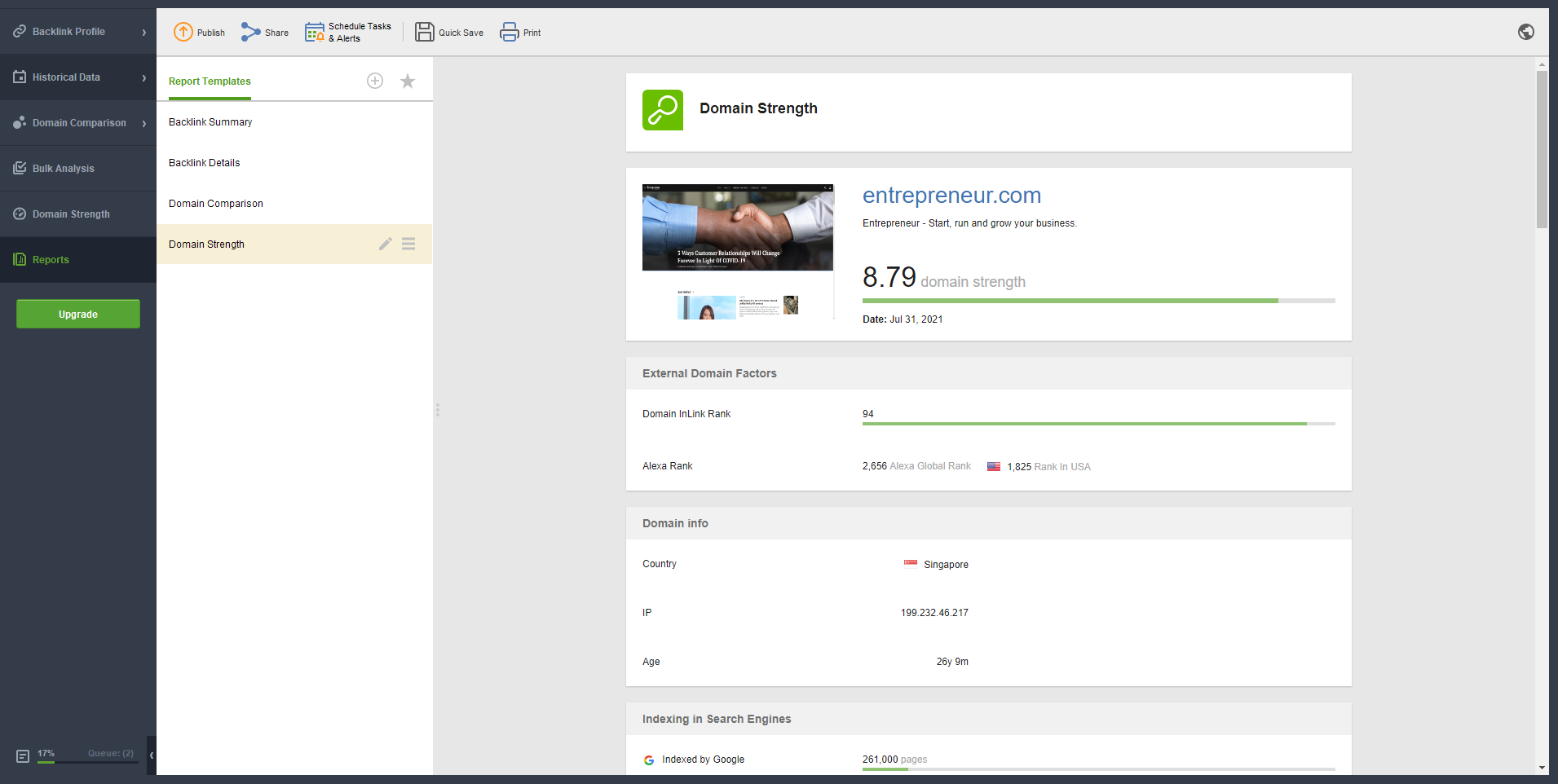 SEO Spyglass gives you more freedom than you can imagine. And that includes creating better and more detailed backlink reports for your clients and team members.
This tool provides templates to choose from but allows you to edit them based on the info you want to see. You're allowed to add or remove widgets and metrics from your report.
API Access for Enterprise Plan.
If you have the money to invest in a great tool and want more link-building opportunities, then go for the Enterprise Plan. Why? Because this link analysis tool will let you monitor up to 500,000 more backlinks every month with API Access.
Once you integrate API on your dashboard, you'll get all of the data you need, even the once outside SEO Spyglass backlink index.
There are so many valuable features you can use from this tool, and they keep adding more. So constantly check the website to stay updated.
Pros
Very comprehensive keyword tool
Powerful filtering options
Unlimited everything
Cons
Limited database
Link Assistant needs improvement
SEO Powersuite is the best desktop-based SEO software in the market. It allows you to develop and roll out an SEO strategy using the four tools for your site or clients. The Website Auditor and Rank Tracker help you audit your site as well as research and track keywords for your website. The SEO Spyglass and Link Assistant can help you implement a solid link building strategy. However, the former has a limited database while the former doesn't hold up on its own – it's best if you import data from a third-party tool to find link prospects. Regardless, it doesn't make SEO Powersuite any less powerful than it already is.
The good and the bad
Good: Powerful backlink checker tool
From doing detailed backlink research to in-depth analysis of your website's and your competitors' backlinks, this tool does a great job! Moreover, SEO Spyglass assesses your backlink profiles using over 50+ ranking factors based on Google algorithm.
Bad: Bigger websites take longer to load
I had no problems when I try to load websites that are new and have fewer pages. But for the bigger websites, it took more than a "few" minutes. When I tried to load the entrepeneur.com's website, it took more than 15 minutes to get its backlink profile.
For other people, that might be fine, but that's not the case for everyone.
Good: Free version available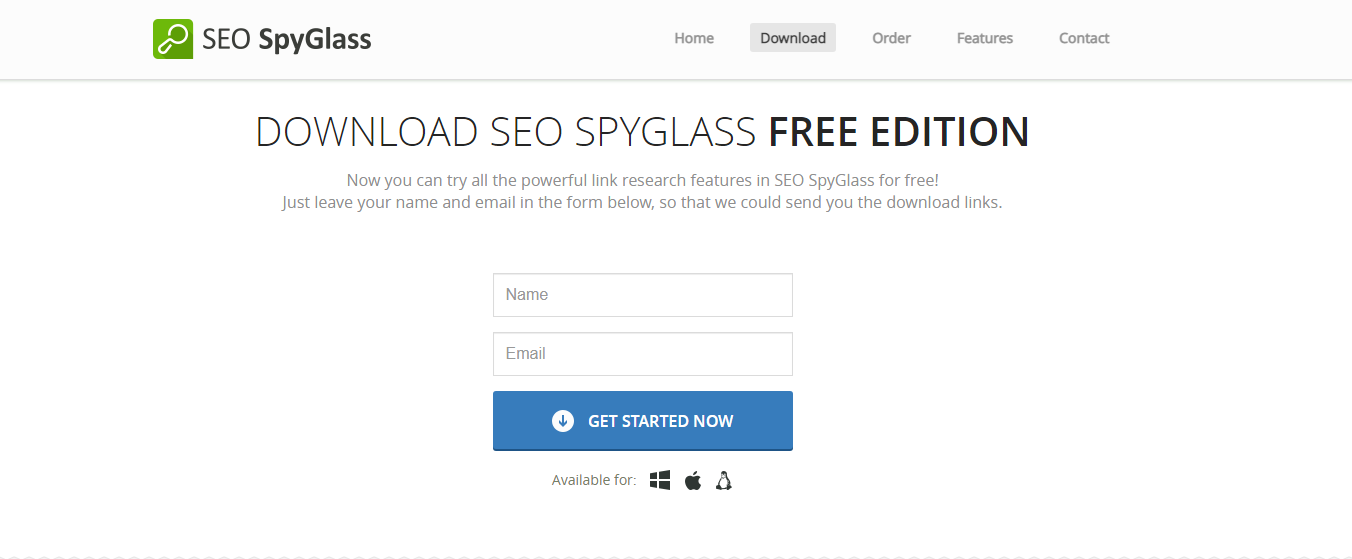 Yay for the free version! This isn't a free trial, so you don't need to worry about paying anything. Moreover, you can do many things on the free version, like checking unlimited websites, getting up to 1,100 backlinks, and accessing Historical Data.
Bad: Limited features for the free version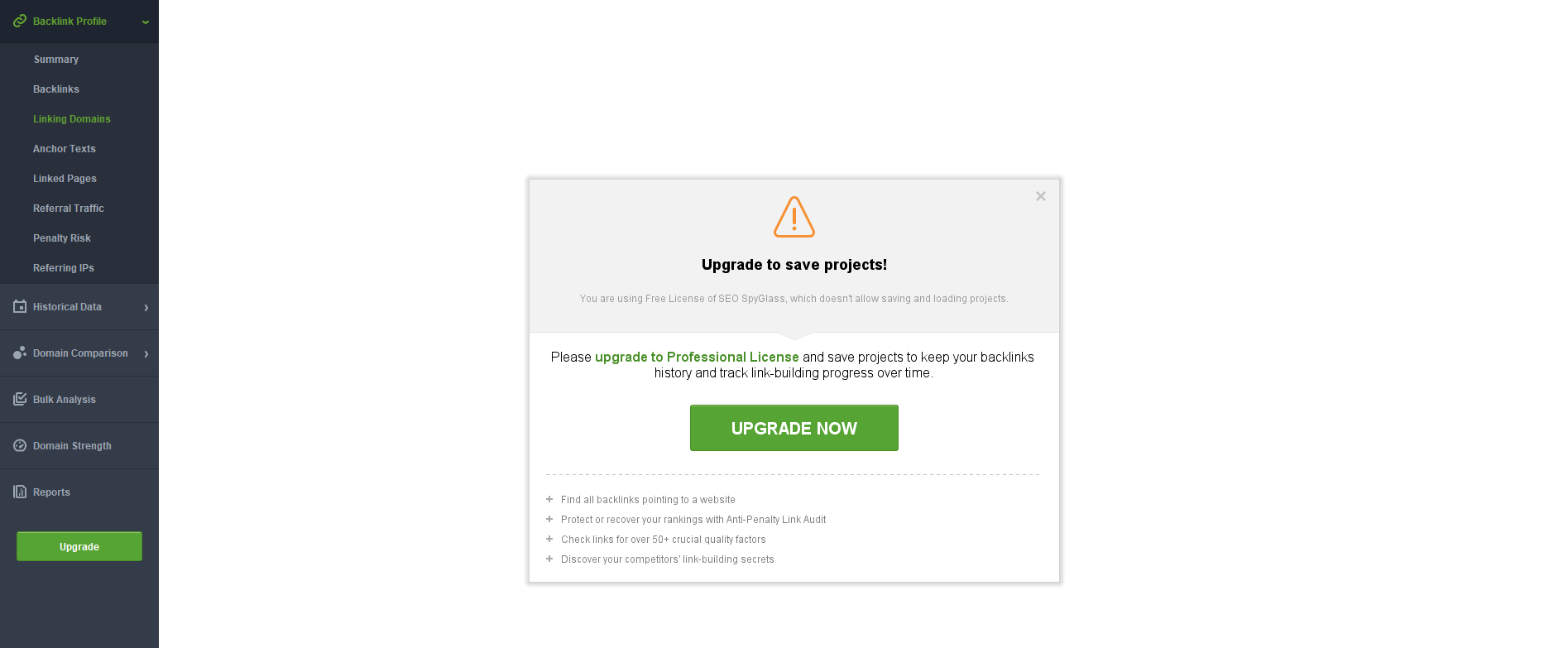 This is already given because it's a free version. But the only limit that I didn't like is the inability to save your project. That being said, you need to re-run and do everything again if you'd close the app.
Good: More affordable than some of its competitors
Now that there are so many tools out there in the market, finding the best tool within your price range can be very intimidating. SEO Spyglass stands out from some of its competitors because it's 12x cheaper, but it is as powerful as other leading tools.
Pricing Plans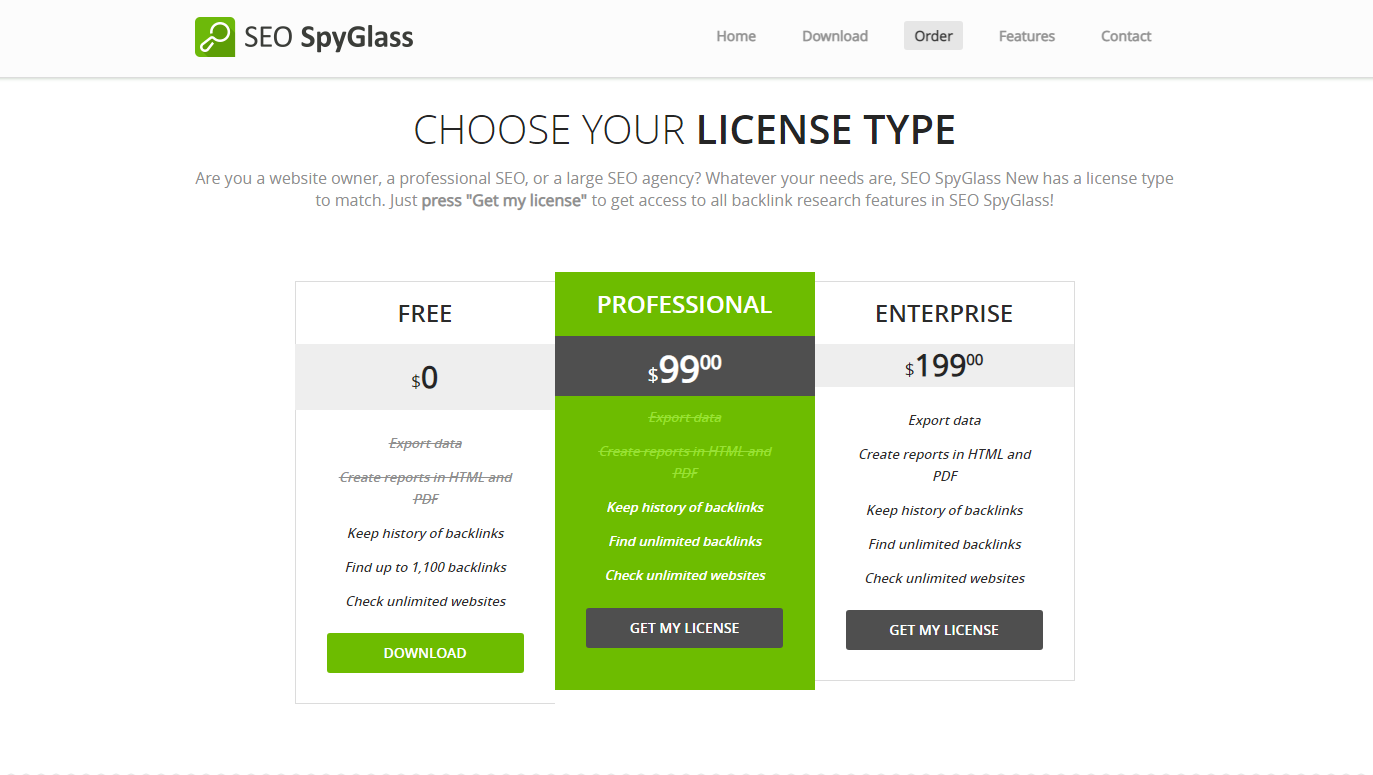 You can choose to download the free version or pay to get more features.
Free
Access to 1,100 backlink index.
In-depth backlink analysis.
Customizable workspace.
Professional – $99/year
Perfect for small to medium-sized site owners.
Compare up to 5 websites at once.
Unlimited backlink check.
Unlimited in-depth analysis.
Store backlink history.
Schedule task.
White-label SEO reports.
Enterprise – $199/year
Ideal for SEO agencies and SEO specialists.
All features in Professional Plan plus the ability to print, email, and publish your report.
SEO Spyglass Conclusion
SEO Spyglass is a powerful backlink checker tool that can help you better understand how your website and competitors are performing.
SEO Spyglass does an in-depth analysis of your backlinks, compares up to 5 websites at once, lets you store the history of links for future reference, and provides customizable workspace templates. This tool has a few downsides, and overall, SEO Spyglass offers impressive features.
If you're looking for an alternative tool but an efficient one like SEMrush or Ahrefs, don't hesitate to give Spyglass a try!