SEO isn't only about finding keywords or strengthening your backlink profile. You should also pay attention to the technical side of your website.
The SEO Powersuite Website Auditor is a tool that can help you in this aspect. I'll tell you what it does, its features, and the pros and cons of using this SEO tool.
What is the Website Auditor
This website auditing tool is a free-to-download software of SEO Powersuite. You can either download it with the other three SEO tools or separately.
The Website Auditor analyzes your site's pages and shows the site structure and the issues you need to fix. Once you solve these problems, your online visibility and traffic will improve.
Learn about the rest of the tools in our SEO Powersuite Review.
Core Features and Benefits
Perform Site Audit thoroughly like how search engines do.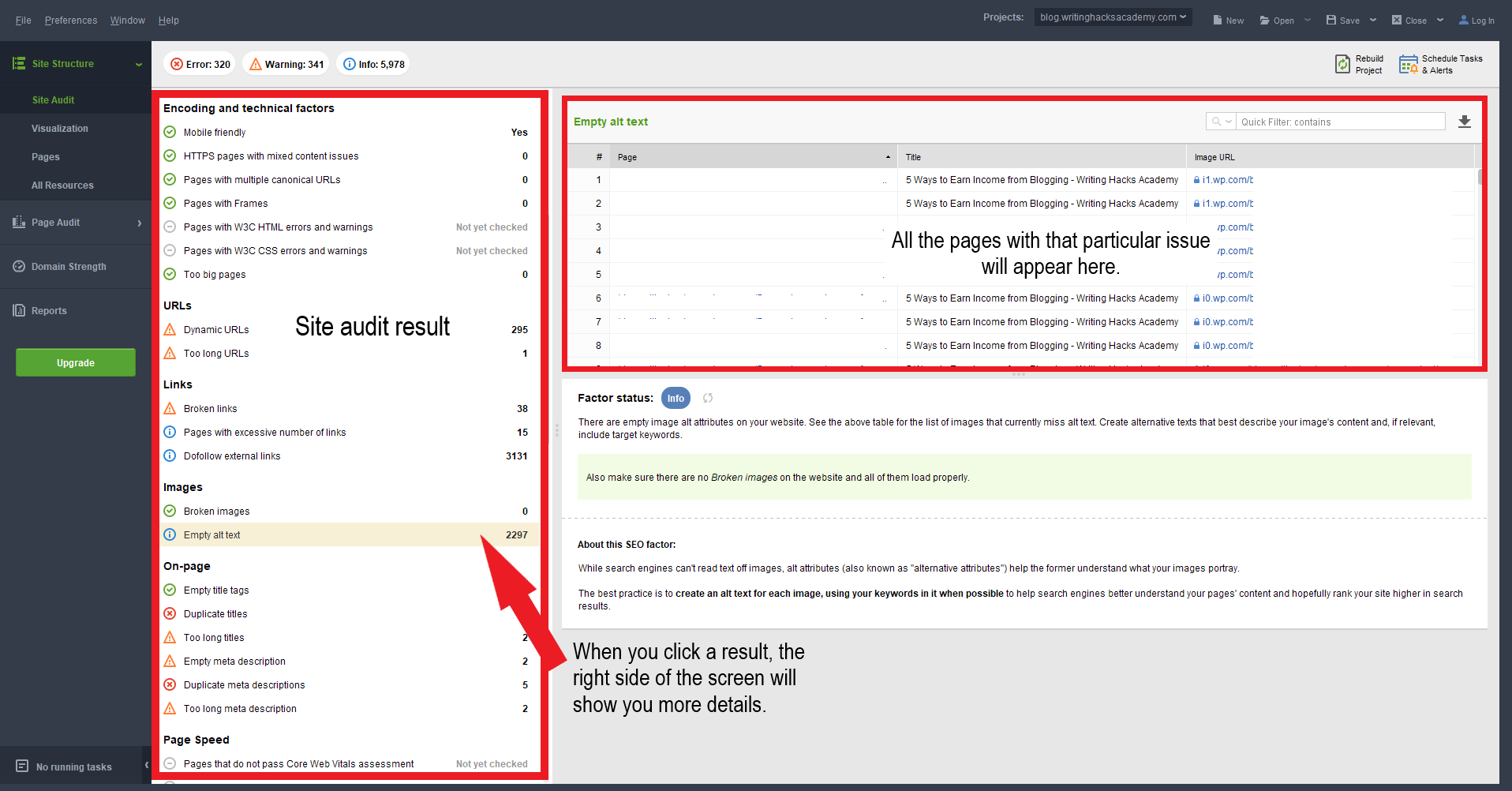 The site crawl analysis of this tool shows you how the search engine bots crawl and see your site. It deeply audits the internal and external aspects, including the images, videos, CSS, and HTML, of your website.
Identifies and Shows Site Issues
The Website Auditor provides all factors and information that affect your website's ranking, search engine indexation, and user experience. That said, you'll get an accurate list of errors that affect your site.
Some tech SEO issues are broken duplicate content, linking problems, broken links, site speed, and poor content.
The Website Auditor uses plain English and explains everything in a way that non-techie or beginners will understand.
Provides detailed and useful data for specific pages.
Website Auditor allows you to audit particular pages on your site. After the process, it'll show you an organized overview of your pages' status. When you click a specific factor, the tool will display a detailed explanation of it and what you can do to solve any of its issues.
Check your internal links through the site structure visualization.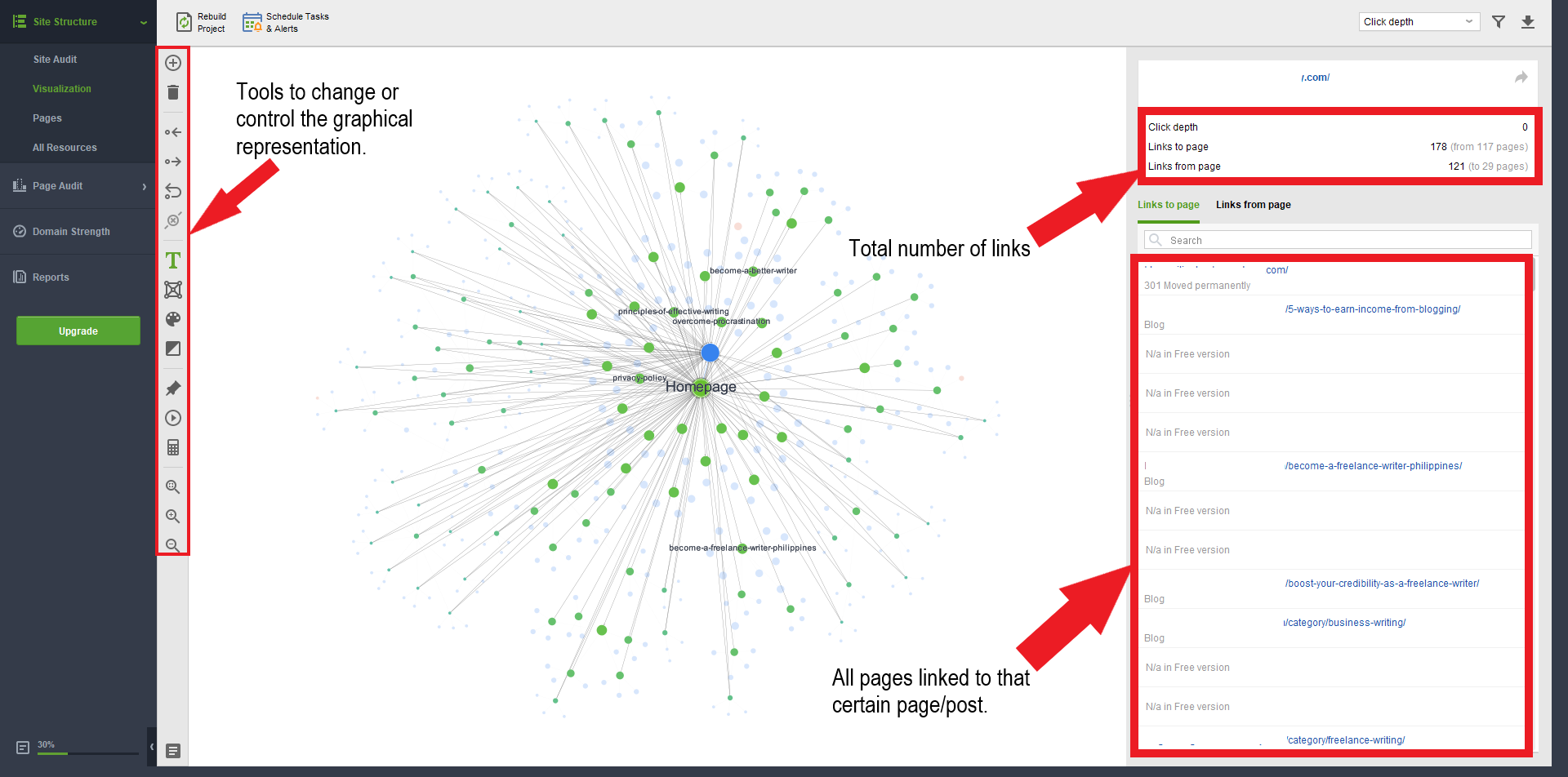 This feature of the auditing tool is a graphical representation of your website to show you how your pages are connected. The visualization tool can help you determine if your website pages are well-linked and if you're missing any spots.
All you need to do is click a specific page, and it will provide you with all the links to and from the page and the total number.
Generate robots.txt and sitemap.
Let's have a quick review. Robots.txt instructs search engine crawlers which URLs in your site are crawlable and not. While XML sitemap file sends all your pages to search engines so they can be indexed and ranked.
Save yourself from the stress of understanding this technical part. In just one click and in a matter of minutes, the Website Auditor can provide you with an XML sitemap or robots.txt file.
If you have an existing one, you can edit it on the Website Auditor and upload the changes instantly on your site.
Assess your pages using the Core Web Vitals
Google doesn't rank pages on their SERPs randomly. You need to make sure that your site passes the core web vitals assessment for a higher chance of ranking. And instead of doing it manually on Google's PageSpeed Insights, the Website Auditor can do it quicker and better for you.
Just by one click, you can assess all your pages. After that, the Website Auditor will provide you with your pages' score and allow you to group them based on your priority.
Provide valuable suggestions to make your content more visible and indexable by search engines.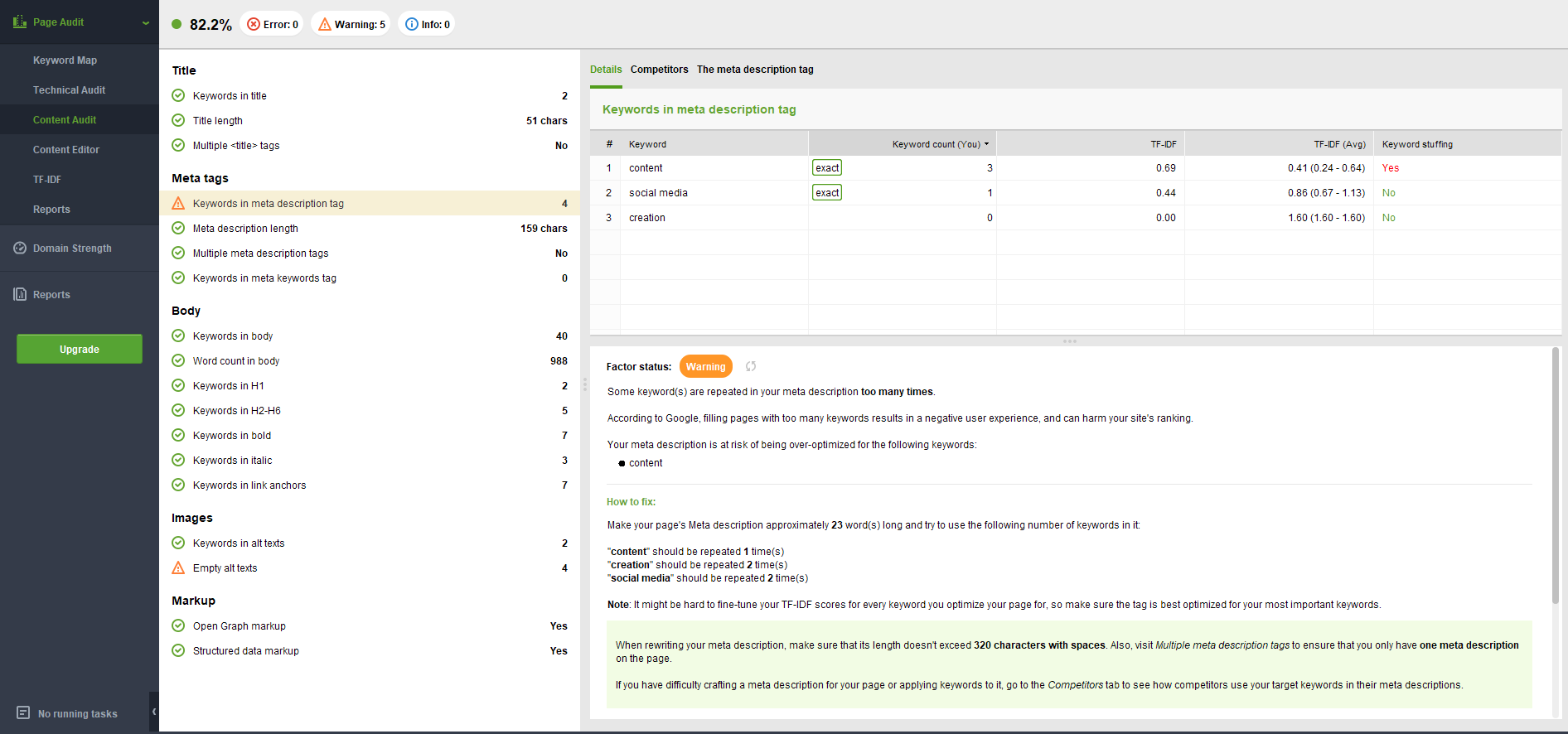 Thanks to the intelligent SEO audit tool of the Website Auditor, you can optimize your content for free!
After choosing the post you'd like to optimize and typing your target keywords, the tool will show your content's status and give you actionable steps. This is arranged from the top priority to the least one. Once you click a certain issue, you'll see these details:
Factor status.
How to fix the problem.
A description of the factor.
Your competitors' results.
The exact content of the SEO issue.
By following and fixing the issues, the possibility of your content to show on the SERP increases.
Content Optimization via Content Editor.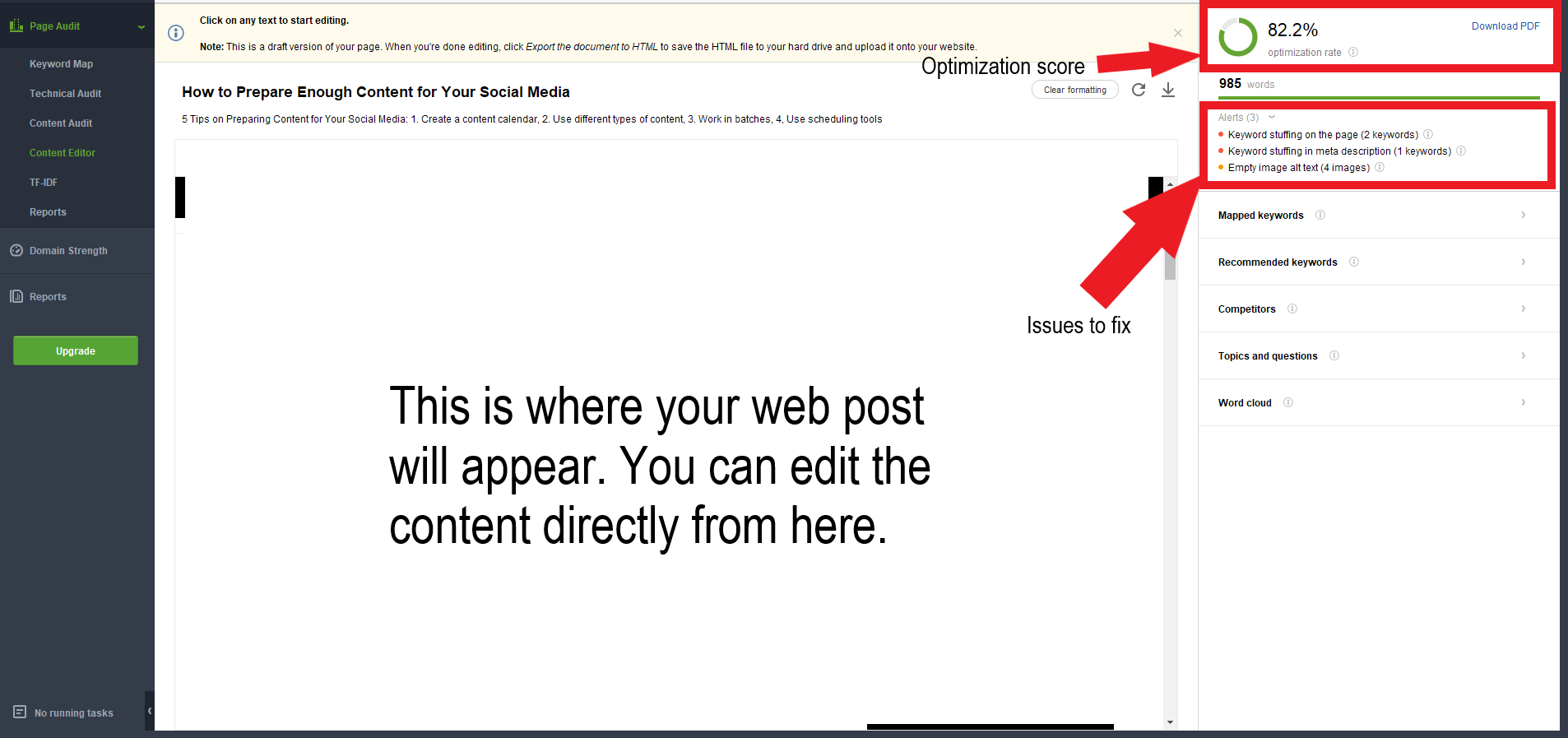 After you audit your existing post, you can edit it right away on the tool. You can also use this tool to create new optimized content.
On the Content Editor page, you'll see:
your content
the optimization rate of your post
total number of words
the issues you need to fix and more!
Once you fix the page issue, your optimization score will change in real-time, and your on-page SEO will improve. The tool lets you optimize multiple pages at once so you can create more optimized content in no time.
The SEO Powersuite Website Auditor also supports over 750 search engines around the world. You can get page SEO advice depending on your chosen search engine and location.
NOTE: This feature doesn't change your content on the site directly. You'll need to export the edited content to HTML and upload it on your website (this is only available for Pro and Enterprise users).
Analyze your top competitors' content and get useful advice in improving yours.
Wondering how your competitors' pages rank on Google? You don't need to guess! The Website Auditor provides you with actual data based on your top-ranking competitors and gives you specific advice based on their strategy.
Other great features:
Customizable workspace and reports.
Shows your top ranking pages on social media.
We created a more detailed post about the features of this tool in our detailed review.
Pros
Very comprehensive keyword tool
Powerful filtering options
Unlimited everything
Cons
Limited database
Link Assistant needs improvement
SEO Powersuite is the best desktop-based SEO software in the market. It allows you to develop and roll out an SEO strategy using the four tools for your site or clients. The Website Auditor and Rank Tracker help you audit your site as well as research and track keywords for your website. The SEO Spyglass and Link Assistant can help you implement a solid link building strategy. However, the former has a limited database while the former doesn't hold up on its own – it's best if you import data from a third-party tool to find link prospects. Regardless, it doesn't make SEO Powersuite any less powerful than it already is.
Pros & Cons of Using the Website Auditor Tool
Pros: A great and complete site audit tool.
The Website Auditor isn't like your ordinary auditing tools. It has many great features that you'll surely benefit from. For example, if you're someone who offers SEO services, your clients will be amazed if you show them the core web vitals assessment results.
Cons: Needs bigger memory.
Analyzing websites with over 10,000 pages will require more space. This might be a problem for those who use older computers.
Pros: Provides more than just website audit service.
Aside from its site auditing features, this tool can help you with other SEO strategies. It can help you with page optimization, keyword data analysis, content auditing and editing, and more. Try to use the free version of the tool, and you'll be surprised by its capability.
Cons: Auditing huge and older websites might take longer than promised.
The Website Auditor promises results in a matter of minutes. However, if you're analyzing larger websites, this might take longer than usual. This isn't a big problem, though.
Pricing Plans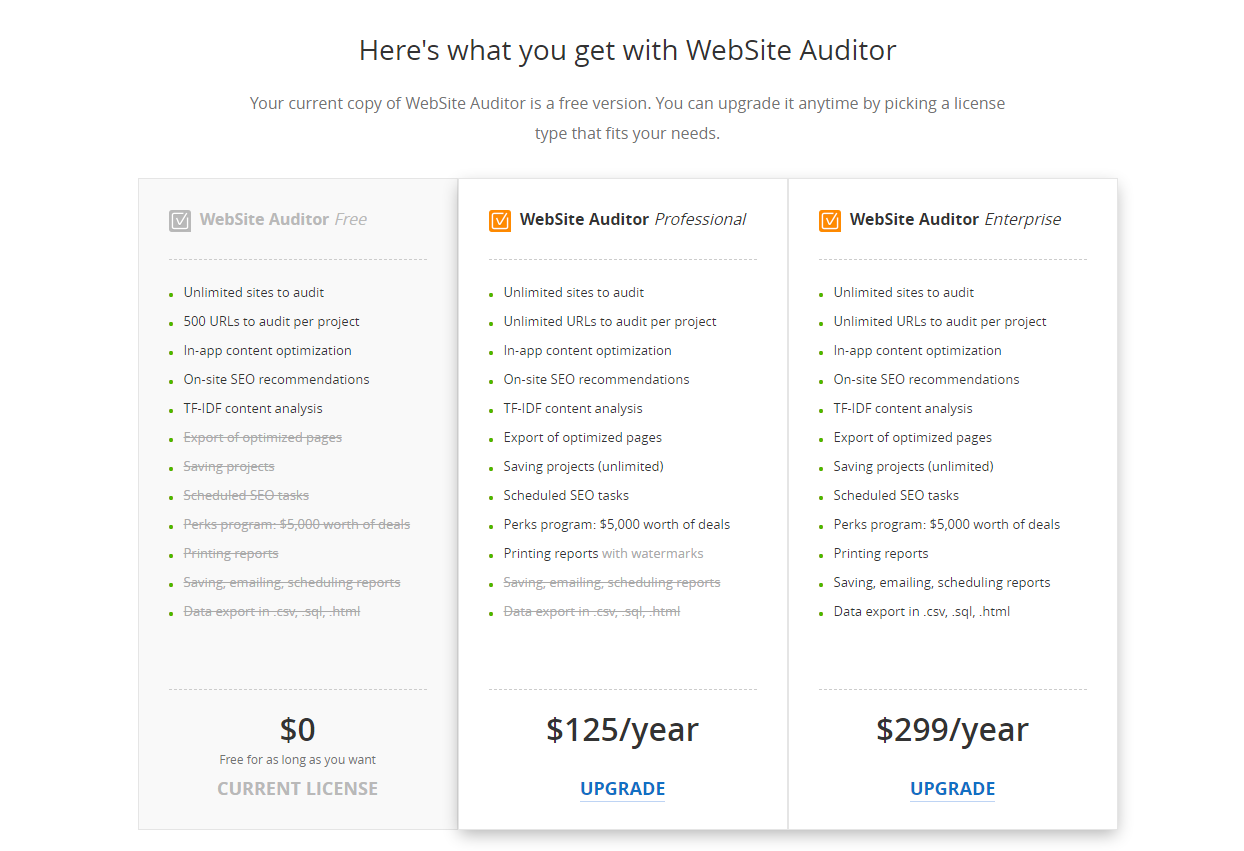 Like its SEO Powersuite brothers, the Website Auditor has three versions. If you want to use more valuable features and tools, you should avail either the Professional plan or the Enterprise one.
Here are their prices:
WebSite Auditor Professional – $125/year
WebSite Auditor Enterprise – $299/year
See the comparison of the three editions here.
Conclusion
You won't regret using the Website Auditor. Auditing and fixing issues on your site are crucial in making it visible. And you'll need SEO software to aid you in the process. I can attest that the Website Auditor can do that.
So go over to Link Assistant's page and download the free version of the tool!