SEO Powersuite Rank Tracker is a great tool to help you measure your website's progress. And determine if your SEO campaign is a success. If you want to learn what this rank tracker tool does, its core features and SEO benefits, pros and cons, and more, make sure to read the rest of this post.
SEO Powersuite Rank Tracker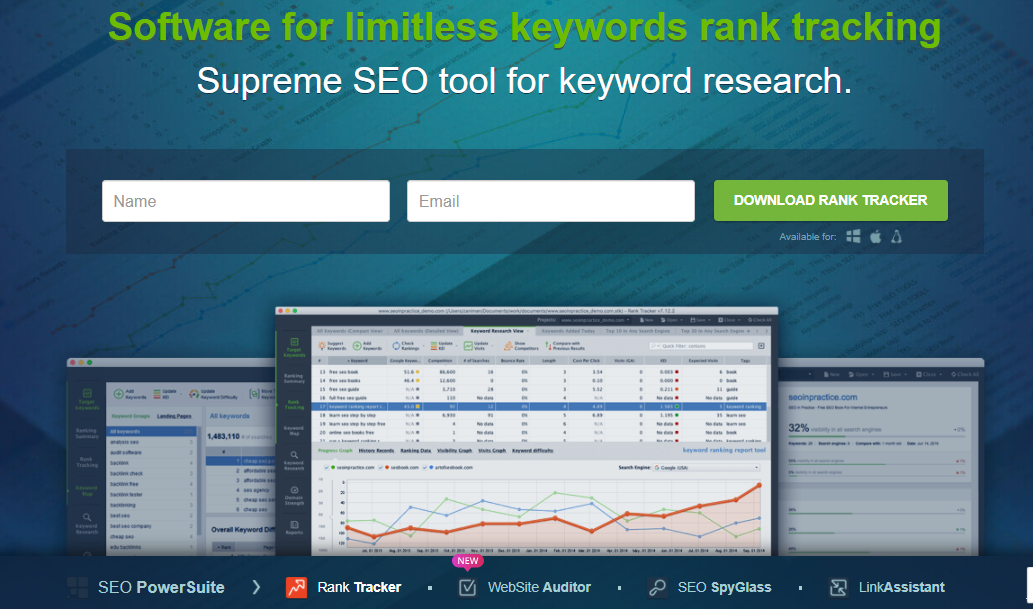 The primary purpose of this tool is to help you monitor your SERPs ranking easier, faster, and more accurately.
This rank tracker tool is one of the internet marketing tools of SEO Powersuite, but it can work as a standalone. The others are SEO Spyglass, Website Auditor, and Link Assistant. A full review of all the software is available here.
Rank Tracker isn't your ordinary rank tracking tool as it offers other great features like keyword research, competitor research, SERP analysis, and more at an affordable price. Plus, instead of providing a free trial like most of its competitors, you can download a free version of the rank tracker tool!
SEO Benefits and Core Features
Some features provided in this review might not be available on the free version. Check out the pricing plan below to see whether they are included or not. If you're curious to know the features of all the SEO tools, be sure to read our SEO Powersuite Review.
Disclaimer: I am not affiliated with Bloggingwizard.com. I used the website for sample purposes only.
Unlimited Rank Tracking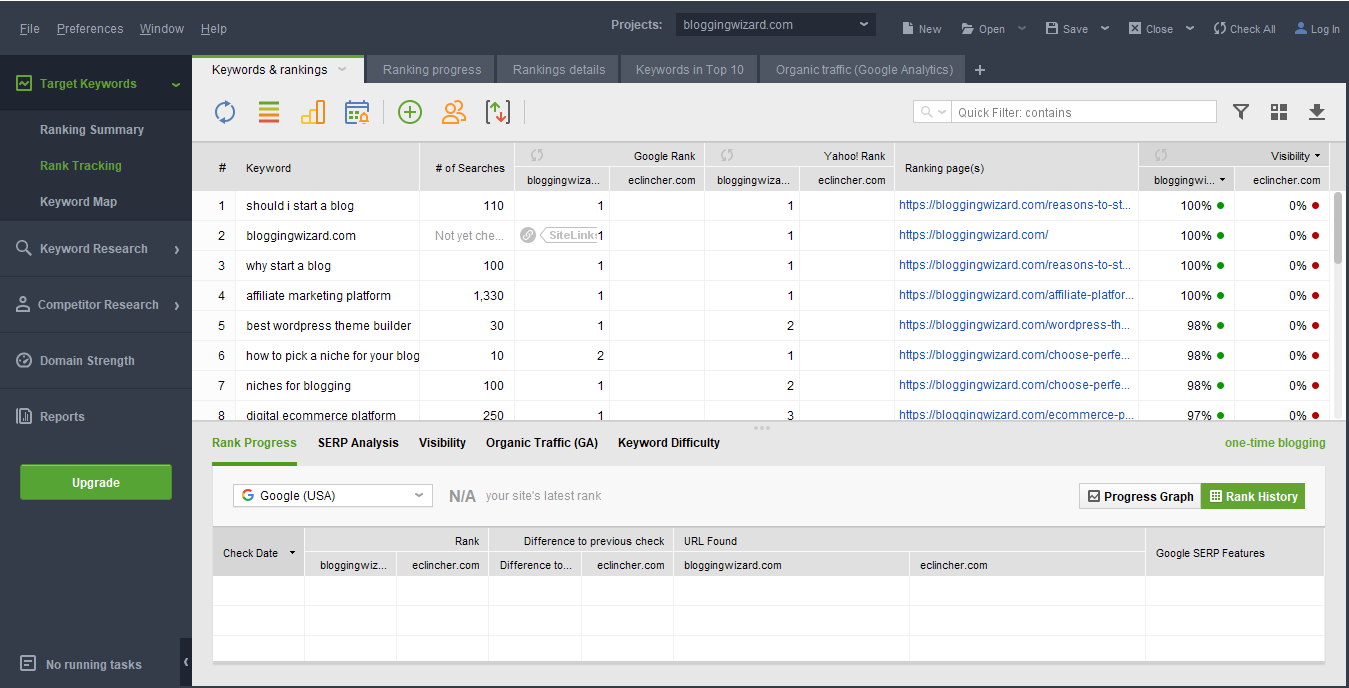 This lets you track unlimited websites and keywords. No need to pay an extra amount. And this feature is available on the free version! This core feature is a great help to improve your search engine rankings.
Aside from that, Rank Tracker provides only necessary SEO metrics and data so you can monitor your SEO progress and rankings without being bombarded with too much information. Some of these are:
Visibility percentage.
Keyword difficulty.
Organic traffic via Google Analytics.
Rank progress graph.
Rank history.
Under the target keyword tab, you'll see three subtabs that you can utilize depending on what you need:
Ranking summary. Provides you with an overview of your site's visibility, keyword rankings, and progress.
Rank tracking. Here's where you can see the detailed version of your keywords and site rankings and compare your position with your competitors.
Keyword map. This is where you can see all of your keywords and some valuable details about them:

number of searches
level of competition
estimated visits
keyword effectiveness
keyword rankings
You can also organize, add, and group your keywords here.
Vast Selection of Keyword Research Methods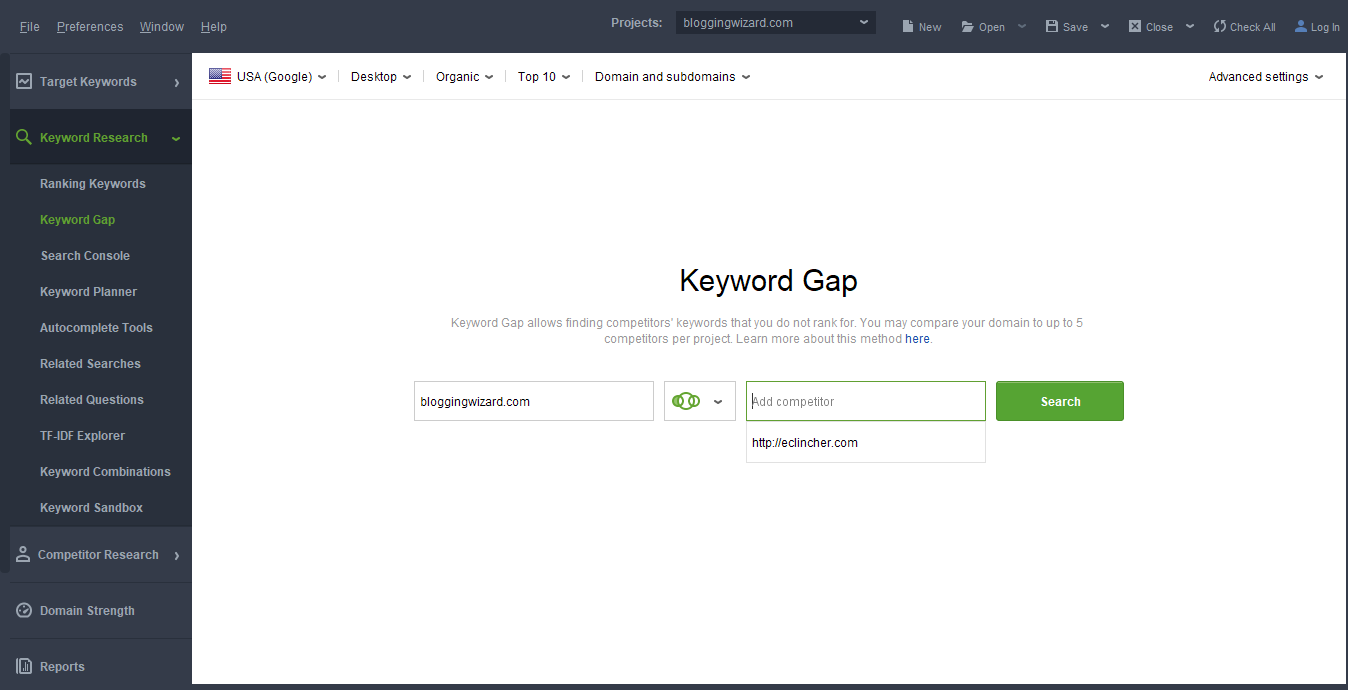 While other keyword research tools just offer you a list of keyword ideas depending on your seed keyword, SEO Powersuite's Rank Tracker allows you to choose from different methods in finding the perfect keywords to target. Some available options are keyword gap, keyword combinations, and related searches.
23 Integrated Keyword Tools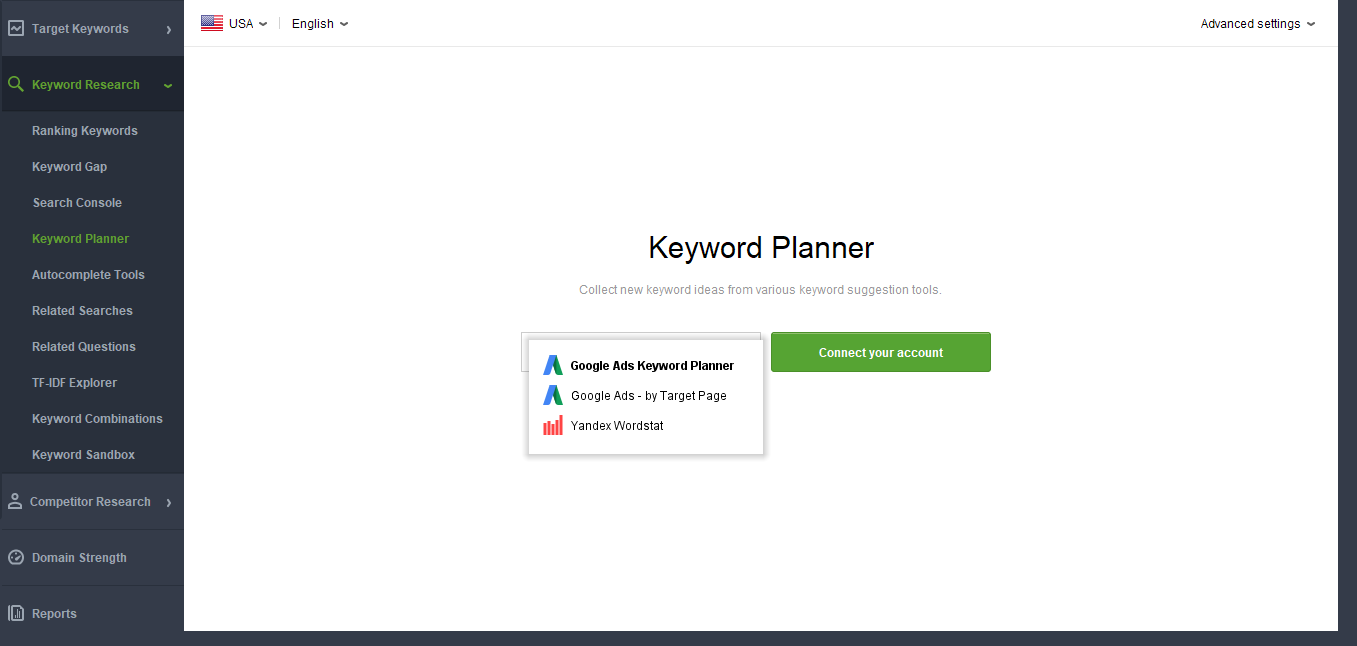 Aside from research methods, it also lets you integrate the best keyword tools out there. Access data from Google Analytics, Google Keyword Planner, Yandex Wordstat, and more for your keyword ideas.
Competitor Analysis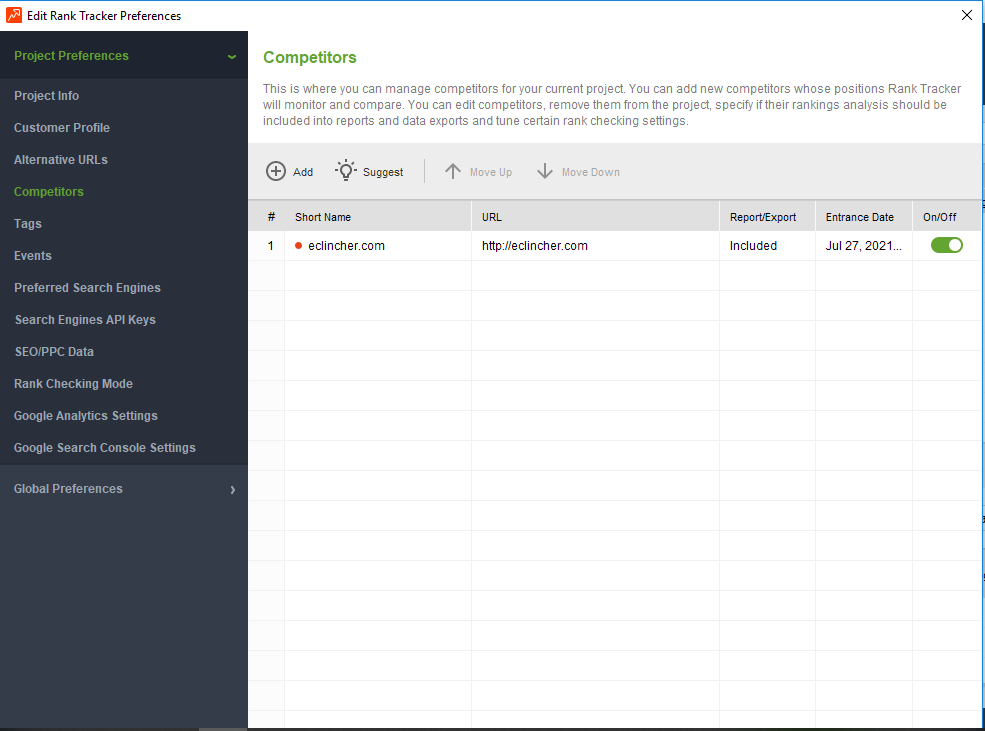 Rank Tracker lets you closely monitor up to 5 of your competitors' rankings (for pro version). Find out which keywords they are ranking for in different search engines and use it for your advantage.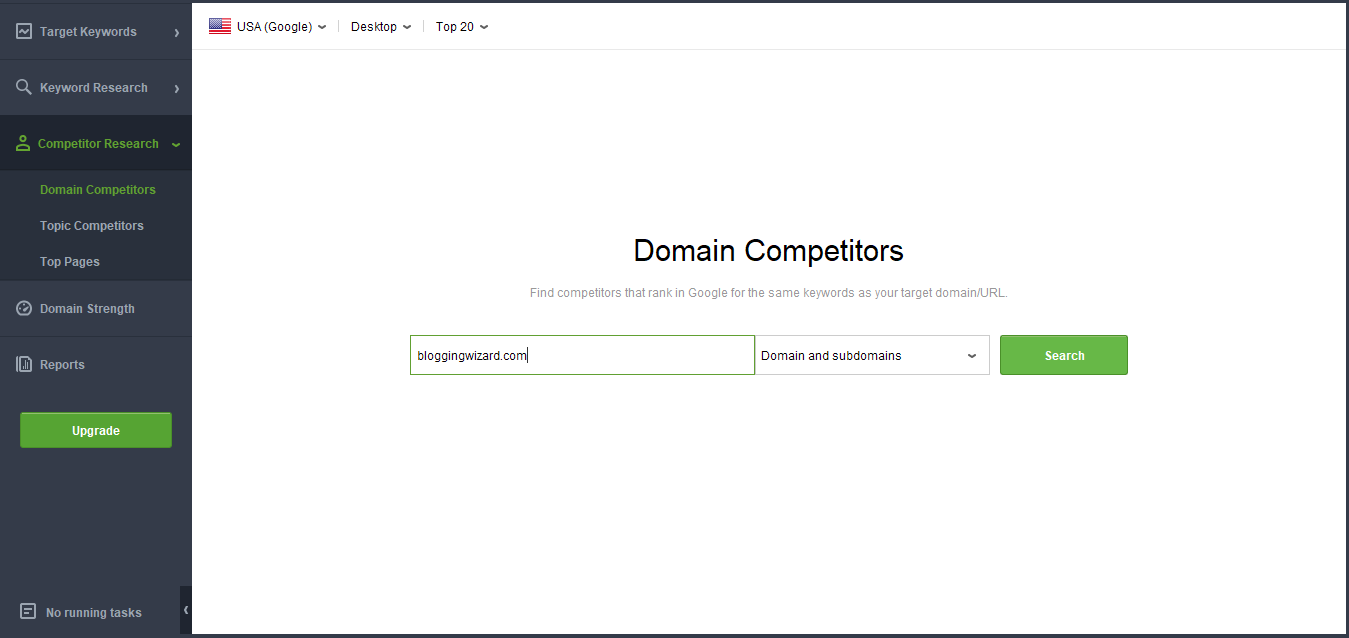 If you have no idea who your competitors are, go to the competitor research tab, and Rank Tracker will help you determine them through domain, topic, or top pages.
NOTE: You are only allowed to add one competitor for the free version.
In-depth and Revamped Keyword Analysis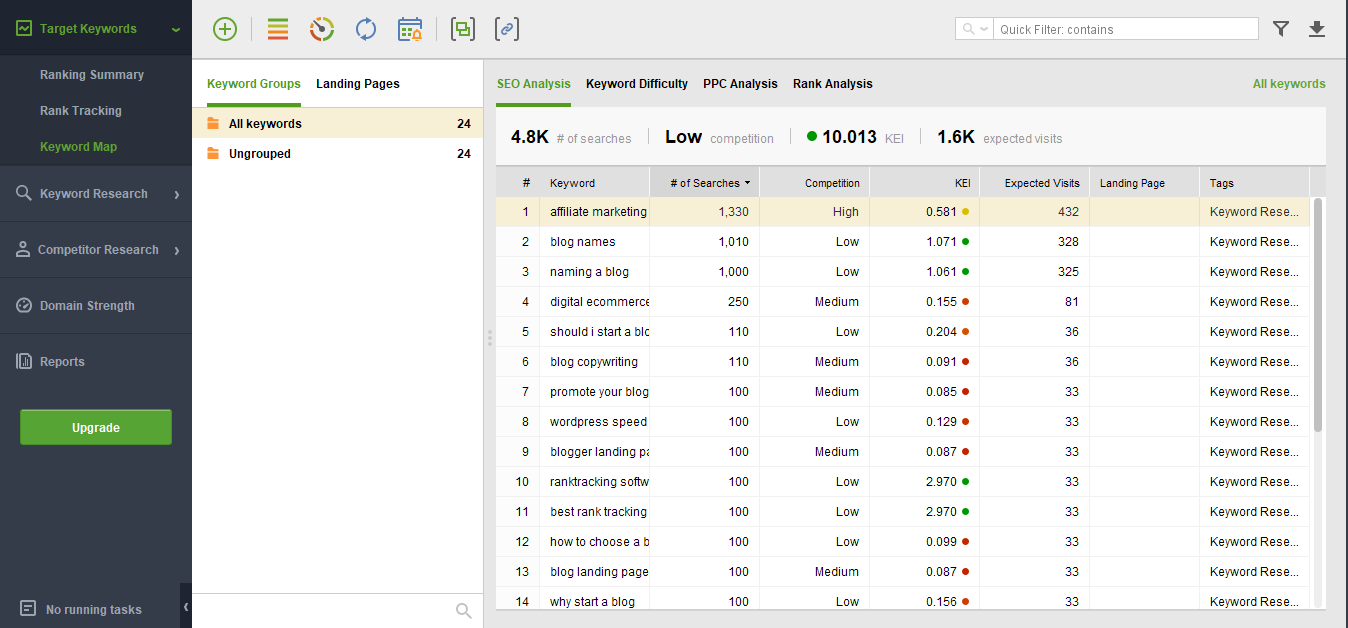 This keyword rank checker tool doesn't only present keyword ideas. It also lets you target and rank for the best ones. With their improved keyword analysis, you can get more valuable data such as search volume, competition level, Keyword difficulty. SEO Powersuite's Rank Tracker also allows you to monitor SERPs results for either desktop or mobile, quickly switching between the two options.
Customizable ranking reports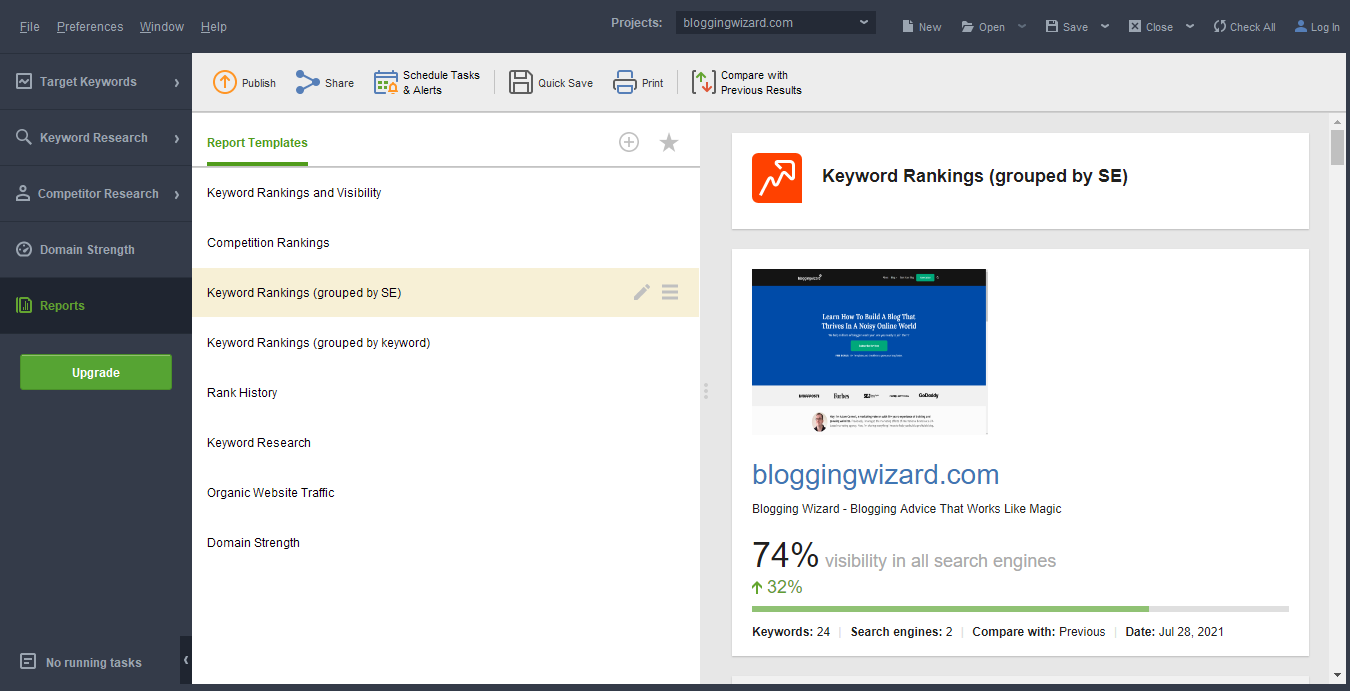 One of the best features of the tool. Unfortunately, printing and sharing reports aren't available for the free version. Rank Tracker's reports are highly customizable, and you can also choose what type of report you'd like to do and add or remove data included in your report.
This tool also allows you to publish, print, share the document via link or send it as an attachment to your client's email address. It also has a feature where you can automate building your reports. Thanks to the auto-pilot system of the Rank Tracker.
If you want to check out the other SEO tools of Powersuite, check out this review.
Pros
Very comprehensive keyword tool
Powerful filtering options
Unlimited everything
Cons
Limited database
Link Assistant needs improvement
SEO Powersuite is the best desktop-based SEO software in the market. It allows you to develop and roll out an SEO strategy using the four tools for your site or clients. The Website Auditor and Rank Tracker help you audit your site as well as research and track keywords for your website. The SEO Spyglass and Link Assistant can help you implement a solid link building strategy. However, the former has a limited database while the former doesn't hold up on its own – it's best if you import data from a third-party tool to find link prospects. Regardless, it doesn't make SEO Powersuite any less powerful than it already is.
Pros & Cons
Pros: Has many useful features
This SEO tool is an all-in-one rank tracking tool. You don't need to open any other sites or download any other application as it can provide you with the necessary tools for optimizing your site.
Cons: Learning curve as it has too many options and features
Although the tool interface isn't difficult to navigate, you'll still need to set aside some time to familiarize yourself with the tool.
Pros: Free and easy to download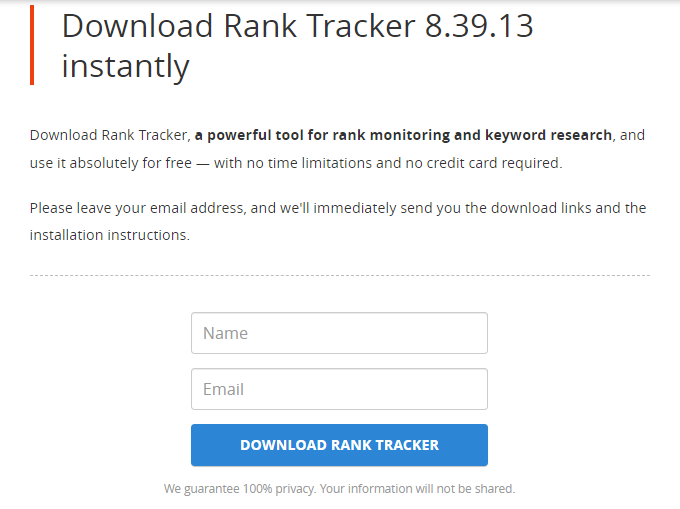 You heard that right! Although the paid versions of the tool are better and offer more features, you can already do some great things with the free ones. You can check below to know what is included in the free version of the tool.
Also, downloading the tool will only take a few minutes. Just go to the Rank Tracker page, click download, type your name and email address, and that's it!
Cons: Unable to save data on the free version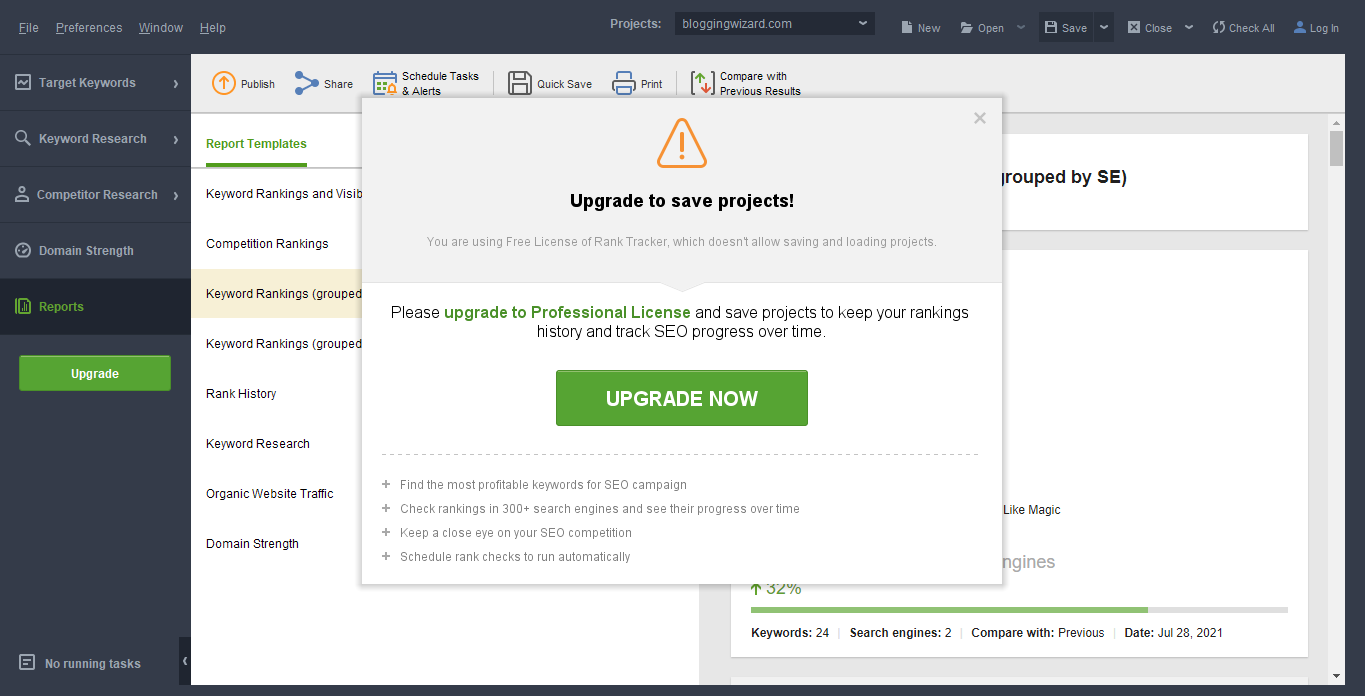 Once you close your Rank Tracker app, you'll need to start from scratch the next time you open it. You're also not allowed to create a copy of data inside of the tool.
Pros: One of the best keyword ranking tool
The interface, accuracy of this tool, and the valuable data it provides are enough to say that it's one of the best. Plus, the developers are constantly improving this tool.
Pros: Affordable Pricing
The paid versions of the tool are very competitive when it comes to the price. This rank tracker tool's price is pretty reasonable compared to other great SEO tools like SEMrush, Serpstat, and Ahrefs.
Pricing Plans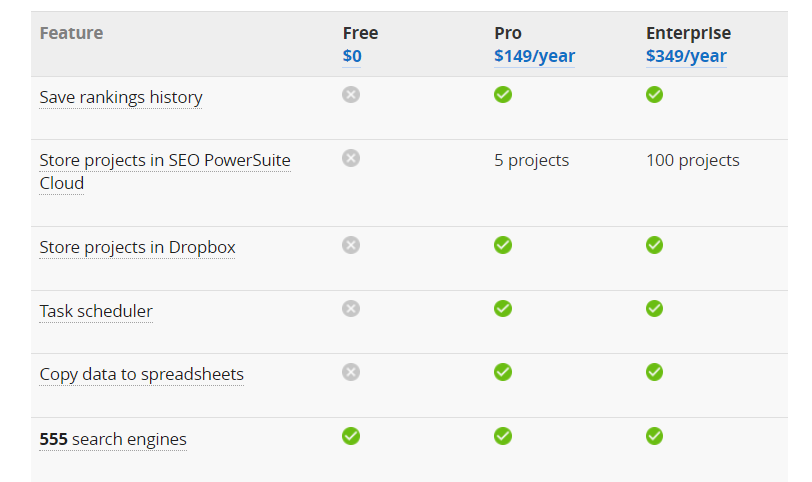 Free
The free version of the tool is different from the free trial. The free version doesn't expire, but some core features aren't available.
Inclusion:
Ready-to-use report templates
Customizable SEO reports and work area.
Universal and Geo-specific search results.
Unlimited keywords to target and number of sites to analyze.
Allows up to 1 competitor comparison per project.
Allows you to use 19 keyword research methods and 555 search engines.
In-depth Keyword Analysis
Automatic software and data updates
Professional – $149/year
For SEO specialists, content writers, and website owners.
Inclusion:
Everything included in the free version.
Allows up to 5 competitor comparisons per project.
Save projects on Dropbox and up to 5 projects in the SEO Powersuite's Cloud.
Monitor and save rankings history.
Print reports and copy ranking data to spreadsheet.
Schedule tasks.
Enterprise – $349/year
For bigger SEO agencies holding multiple websites and projects.
Inclusions:
Everything on the Pro version.
Save up to 100 projects on the cloud base.
Compare and monitor the ranking of up to 40 competitors.
Publish, save, and email reports
Data export in HTML, TXT, XML or SQL format.
Conclusion
It's not hard to see why SEO Powersuite's Rank Tracker is one of the best keyword search tools. The software offers accurate results, provides valuable insights, and has a free version that doesn't limit you in any way. So download the free version today!