It is no secret that keyword research is an essential part of any SEO campaign. Without knowing the best keywords to target, the chance of your website ranking on search engines is very slim.
That's why we're going to show you a free tool to do just that!
Keyword Surfer is a keyword research tool by Surfer SEO that lets you search keywords on Google and save and export keyword ideas via CSV. If you're not familiar with Surfer SEO, you can read our review first.
Let's discuss Keyword Surfer in detail, its features, how to install and use it, and more!
What is Keyword Surfer?

If Google Search Console is used to check your own performance on SERP, Keyword Surfer helps you see the performance of your competitor's blog post or page.
Keyword Surfer is the fastest way to reveal search volume, similar keywords, and charts inside Google Search. You don't need to visit any other website as the data will be provided to you right away.
Keyword Surfer is a free Chrome extension that helps you find the best keywords for your content based on your competitors' results.
For SEO writers, this tool is handy because you'll get to know which keywords are often searched by your potential readers. You'll also learn how much traffic your competitors and the keywords are getting.
Key Features of Keyword Surfer
Get keyword's monthly search volume and CPC directly from Google Search.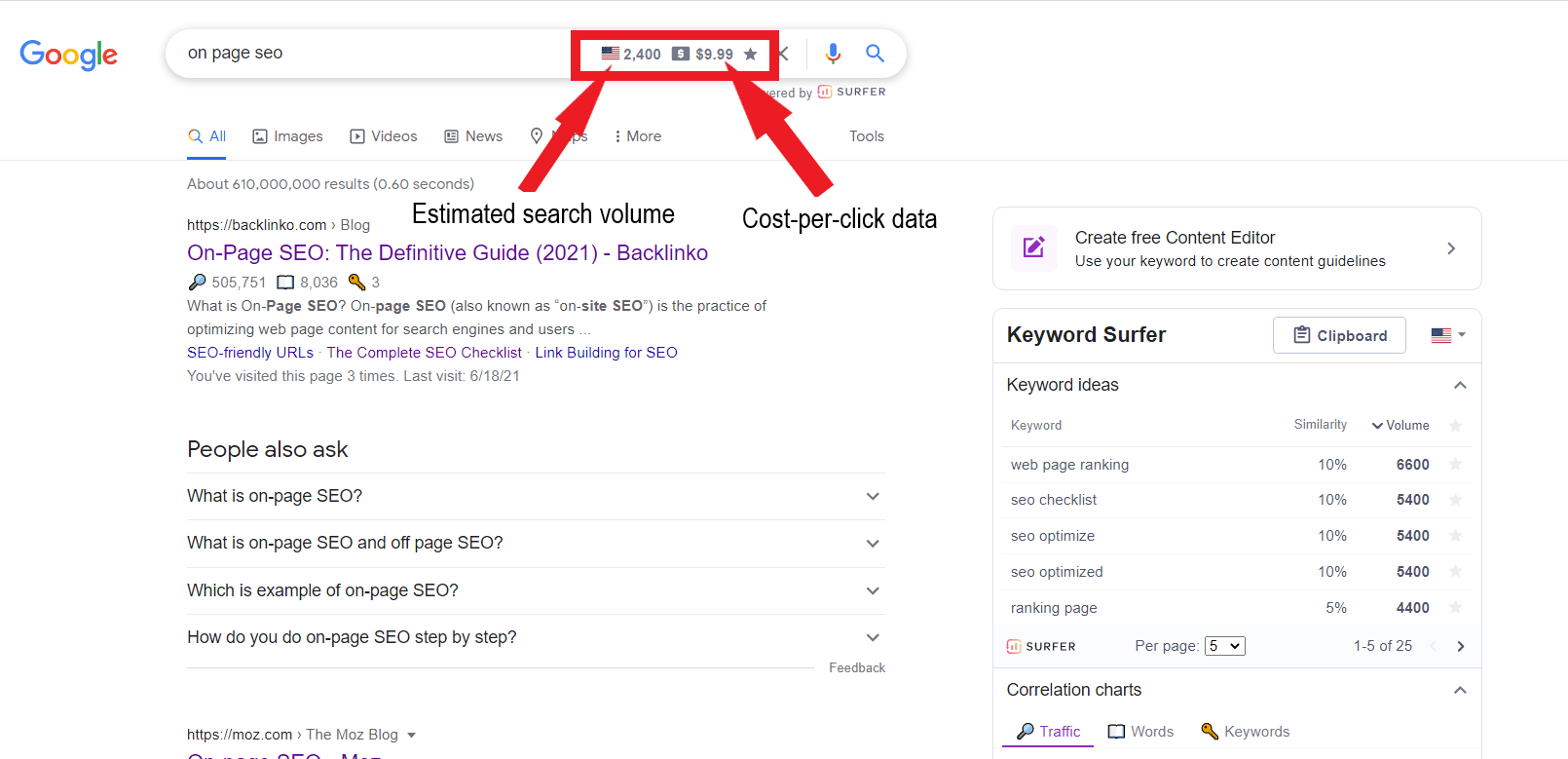 Keyword Surfer shows how many people are searching for your chosen keyword. Plus, it also provides cost-per-click (CPC) data based on the Google AdWords tool.
CPC is essential to better understand the cost of purchasing ads with specific keywords. For example, if you're going to outsource SEM (search engine marketing), it's a good idea to know if CPC is good enough to have a good investment return.
Meanwhile, knowing the estimated monthly search volumes helps you identify if the keywords are worth targeting or not. Low volume means low chances of driving traffic to your website.
See the exact number of keywords on your competitors' page.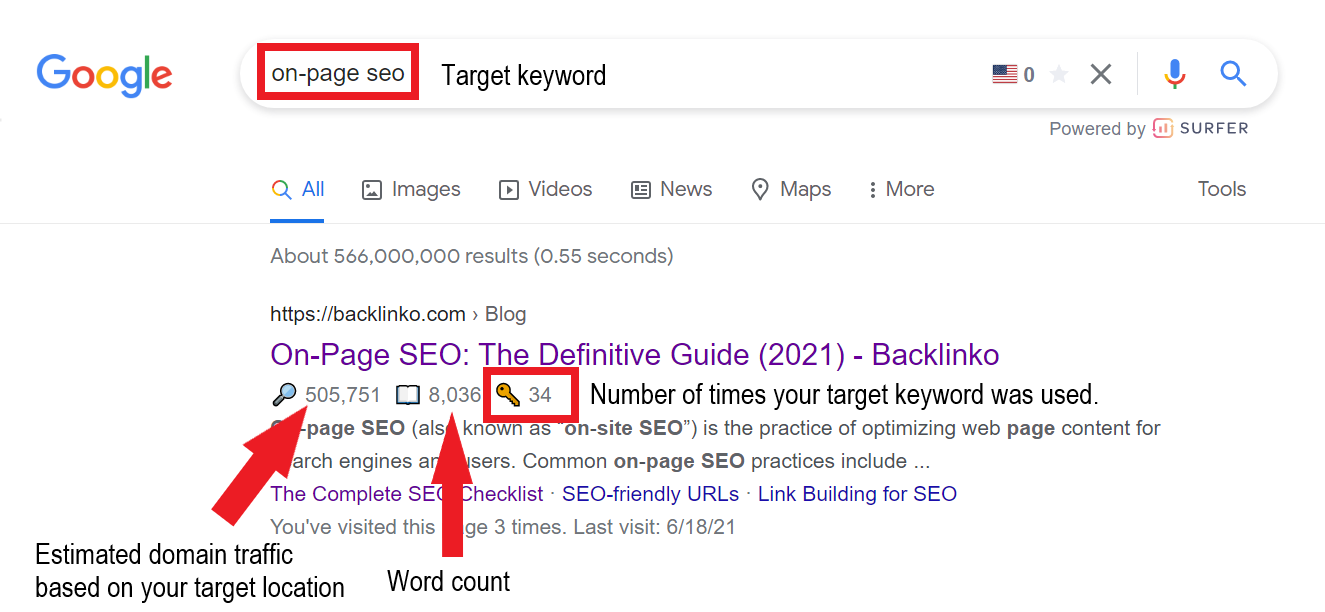 Keyword Surfer provides how many times your chosen keyword was used by your competitor. This will reflect on the SERP together with your competitors' estimated monthly traffic and the content's word count.
Get accurate results by choosing your target location.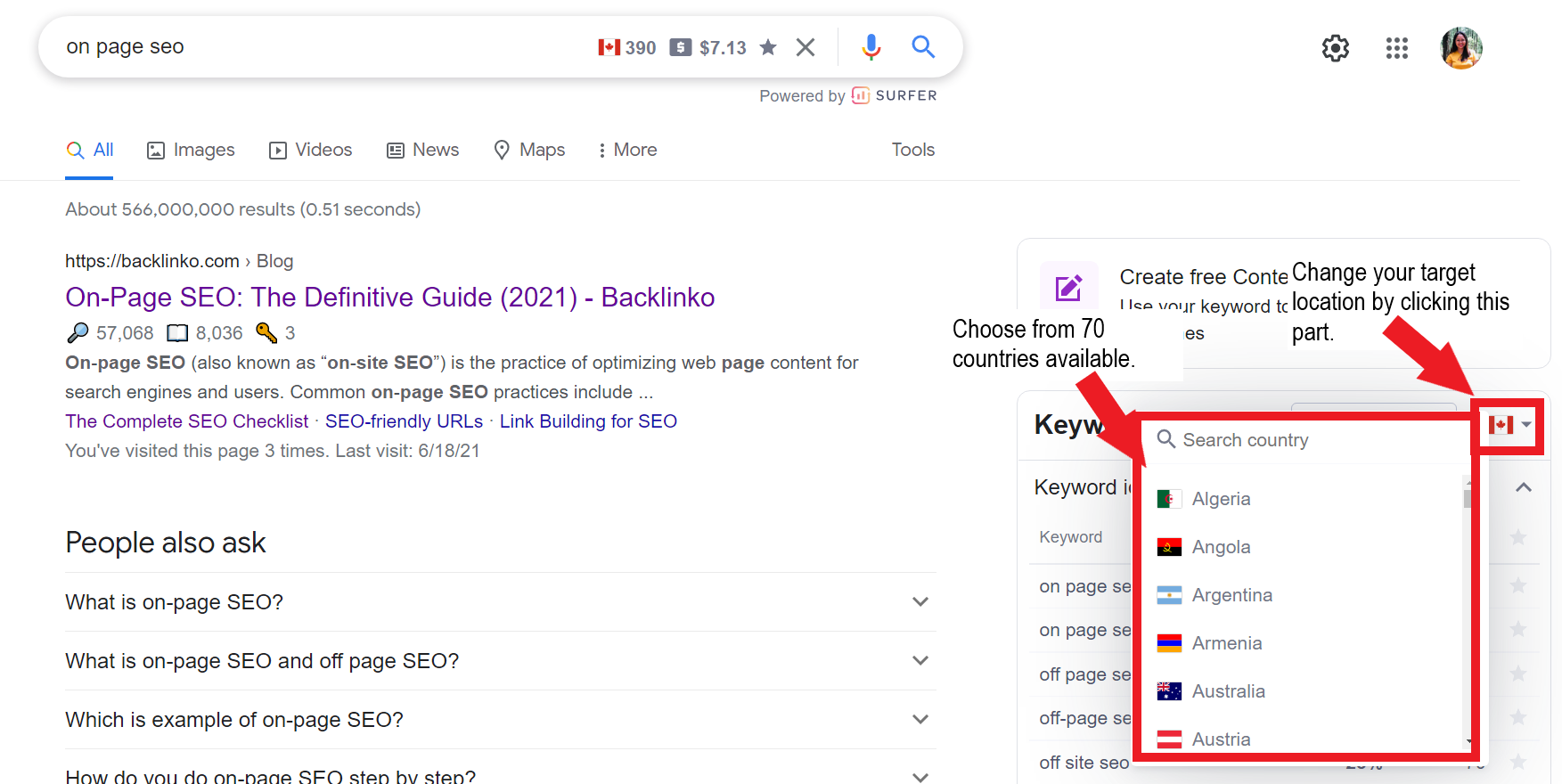 Take note that results from different countries vary, so it's best to choose the place where you're trying to build your authority. Keyword Surfer allows you to get data from 70 countries.
Find the best keyword ideas from the Keyword Chart.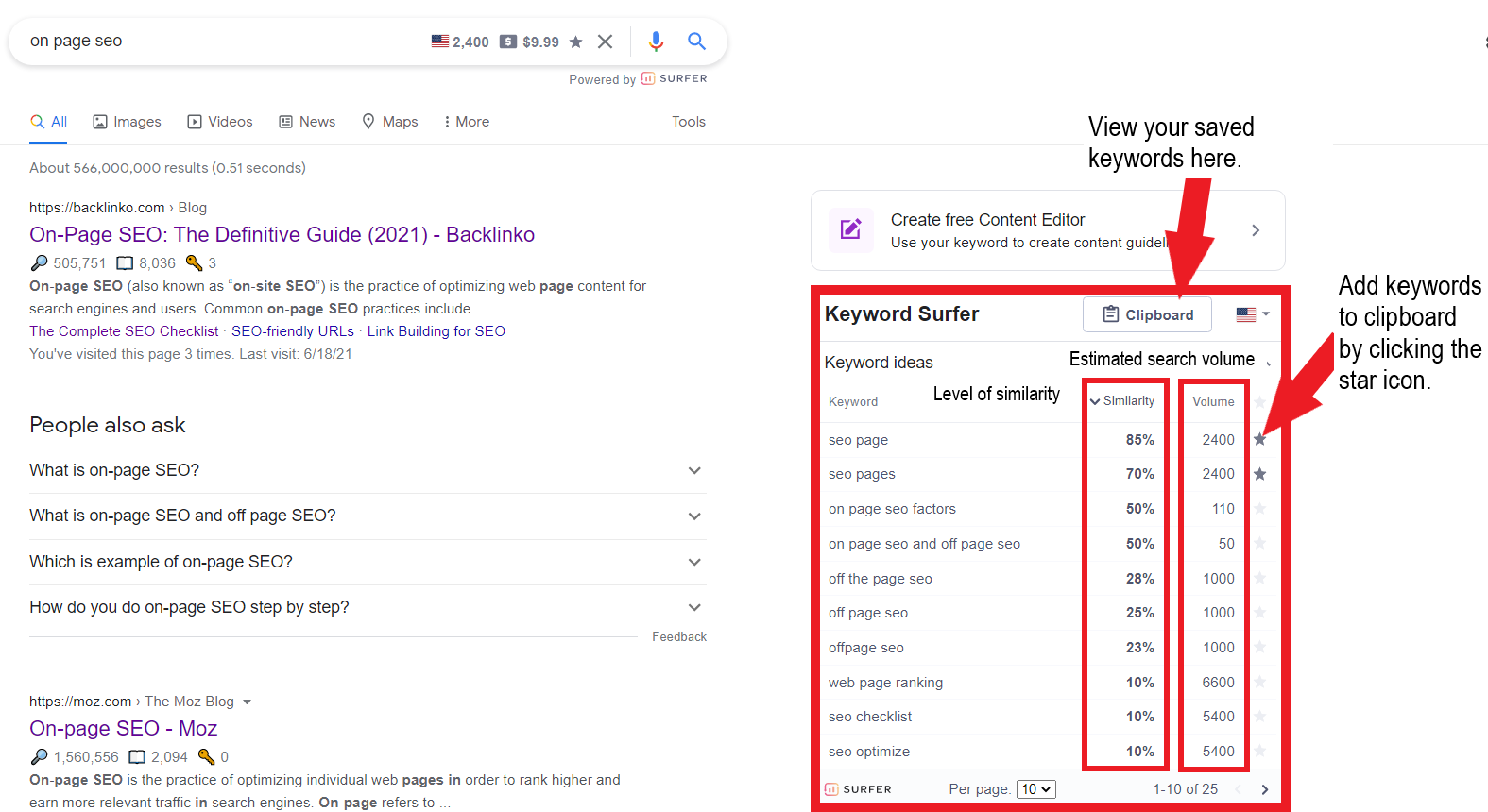 Aside from getting ideas from related searches, you can explore similar keywords through this chart. This feature gives you the chance to find other keywords you can rank for based on search volume.
You can also save the keywords through the tool's clipboard and export them as CSV.
See the data overview of your top competitors through the Correlation Chart.
The correlation chart will provide you three data – traffic, words, and keywords.
Traffic
Provides the estimated traffic that the top 10 pages get per month.
Words
Shows you the word count of all the top pages on SERP. This will give you an idea of the average word count your competitors' pages have and follow it when writing your content.
Keywords
Shows the number of times the top 10 pages on Google used the seed keyword you typed on Google Search.
Optimize your post using the free Content Editor.
Keyword Surfer gives you access to a free version of Content Editor. The guidelines provided are based on the data from your competitors' content and Surfer's algorithm.
Although you won't get all the features available in the paid version, you can still get some helpful insights like the words and phrases you'll need to optimize your content, word count, editable headings, and other formatting tools.
For a free tool, this is a great deal!
How do you use Keyword Surfer?
This tool is very easy-to-use, just follow the steps below:
1. Click this link https://surferseo.com/keyword-surfer-extension/.

2. Click "Add to Chrome."

3. You can watch the video first to know more about Keyword Surfer or click "Add to Chrome."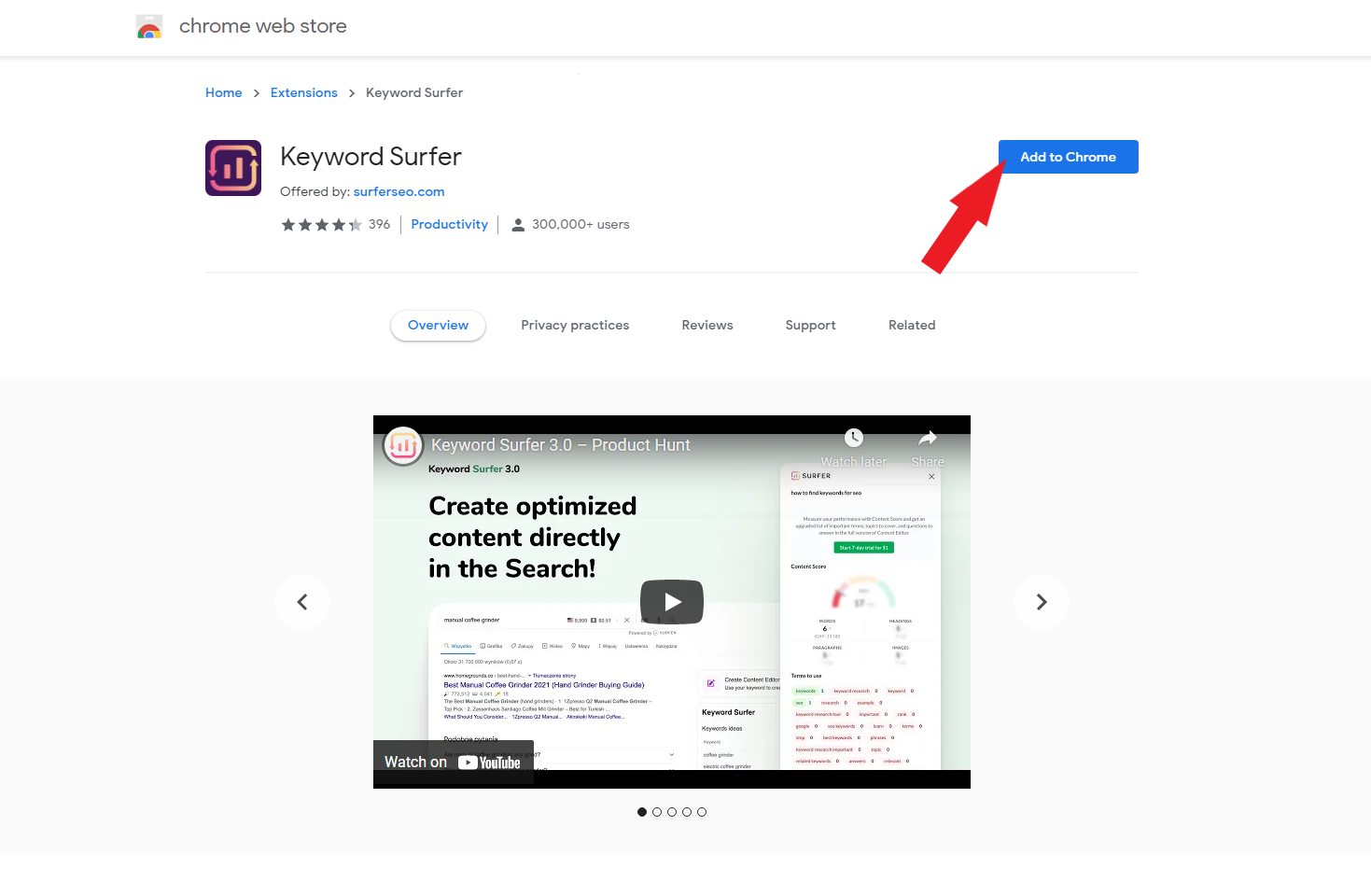 4. Click "Add extension."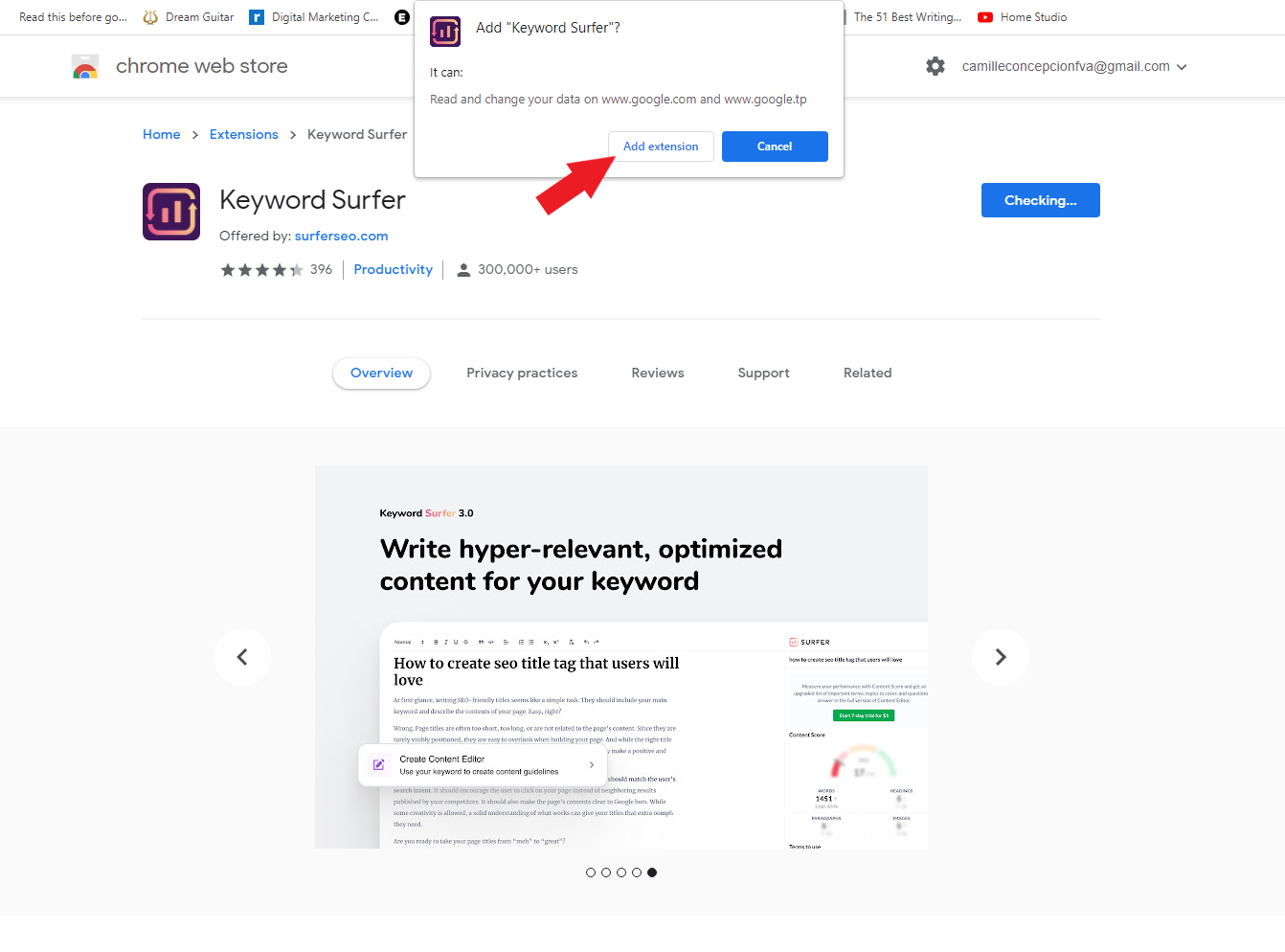 5. Go to Google and start doing your keyword research. For this sample, let's use "on page SEO." I suggest that you don't use any symbols to get accurate search volume data and CPC. If you type a seed keyword with a symbol, i.e., "on-page SEO," the tool won't read it correctly.
6. Take note of your top competitors' data, i.e., word count and the number of times the keyword was used. Get the average and follow it when making your content. Make sure to only consider the competitors that have the same search intent as you.
If you're not satisfied with your seed keyword, check the "Keyword Ideas Chart" on the right side and find another keyword to target.
7. Once you choose the best keyword to target, you can use the free Content Editor to craft your optimized content.
8. Start writing, and be sure to change the color of the terms from red to green by using them on your content.
Very simple, right?
The good and the bad
Good: Valuable tools and features for free!
Keyword Surfer is one of the best tools that reveal search data that are very helpful, understandable, and organized. It's a perfect tool for those who can't afford to invest money in keyword research tools just yet.
Plus, this is offered to you directly on the search results. No need to be redirected to other sites or click any button to see data. Everything is there in front of you!
Bad: Missing data & feature.
Although they are catering data of 70 countries, chances are yours might not be on the list. For example, I tried to target keywords in the Philippines, but it's not yet available.
One feature that I was hoping to see was Keyword Difficulty. KD refers to how difficult it is to rank on your target keyword. It'll help you identify if your keyword is worth targeting or not.
But honestly, I understand why this isn't provided. Usually, KD is included only on paid SEO tools.
Good: Provides results fast.
This might depend on your connection, but I really think that Surfer provides the data right away. It only took 2-3 seconds in my case.
Bad: Only available as a Google Chrome extension.
If you're using Firefox, you won't be able to use this tool.
Conclusion: Is It a Great Keyword Tool?
If you're looking for a great keyword tool but don't have the budget yet, then Keyword Surfer is perfect for you.
And while it doesn't offer some of the more advanced features like keyword difficulty that other keyword research tools may provide, there are still plenty of valuable data to help you with your SEO campaign.
So if you want easy access to a fantastic SEO tool and want to save time on research, download Keyword Surfer now!