The Surfer SEO tool offers various pricing plans – from $29/month (Hobby) to $199/month (Business). As a potential customer, it's essential to know what comes with each plan before deciding which to go for. 
We'll explore each plan's features and limitations in this article so you can find the right fit for your needs.
If you want to know more about this on-page SEO analysis tool, check our Surfer SEO Review.
How Much Does Surfer SEO Cost?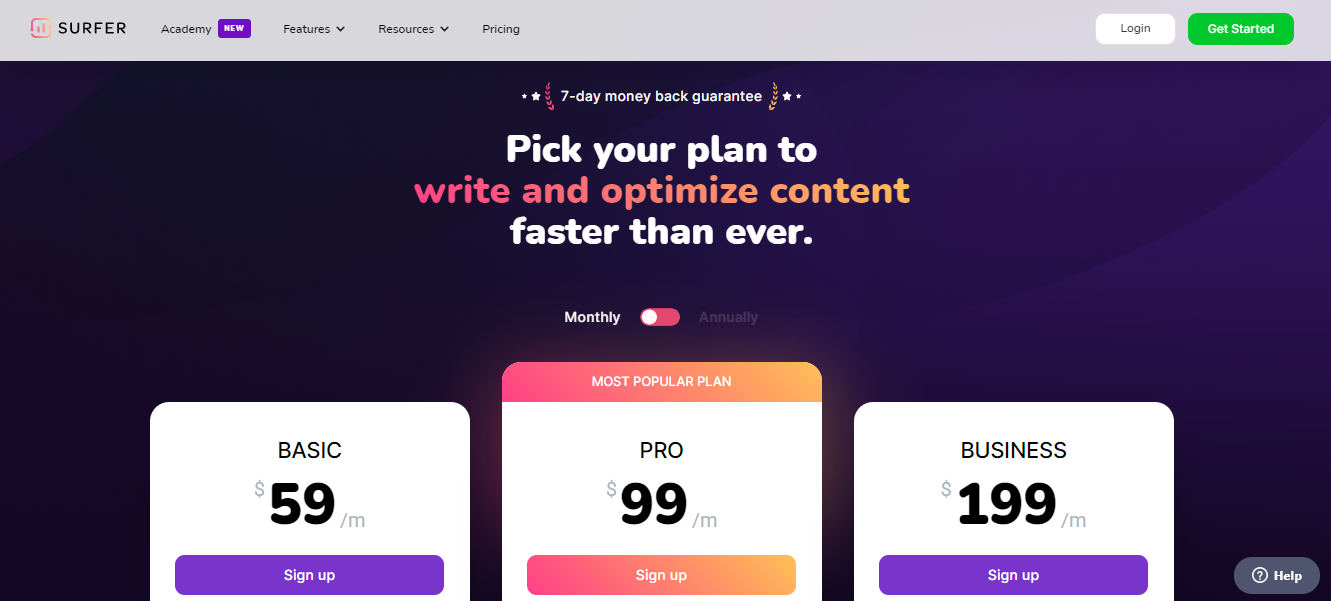 When I first signed up to Surfer SEO, they only have five pricing plans.
But due to popular demand, they added another one for bigger SEO agencies and businesses.
Here's the list of Surfer SEO pricing plans.
Hobby – $29/mo. ($24.2/mo.)
Basic – $59/mo. ($49.2/mo.)
Pro – $99/mo. ($82.5/mo.)
Business – $199/mo. ($165.6/mo.)
Business+ – $649/mo. ($541.7/mo.)
Enteprise – Custom/mo.
**Note that the prices inside the parentheses are the discounted ones for annual billing.
Surfer SEO Pricing: Features & Limits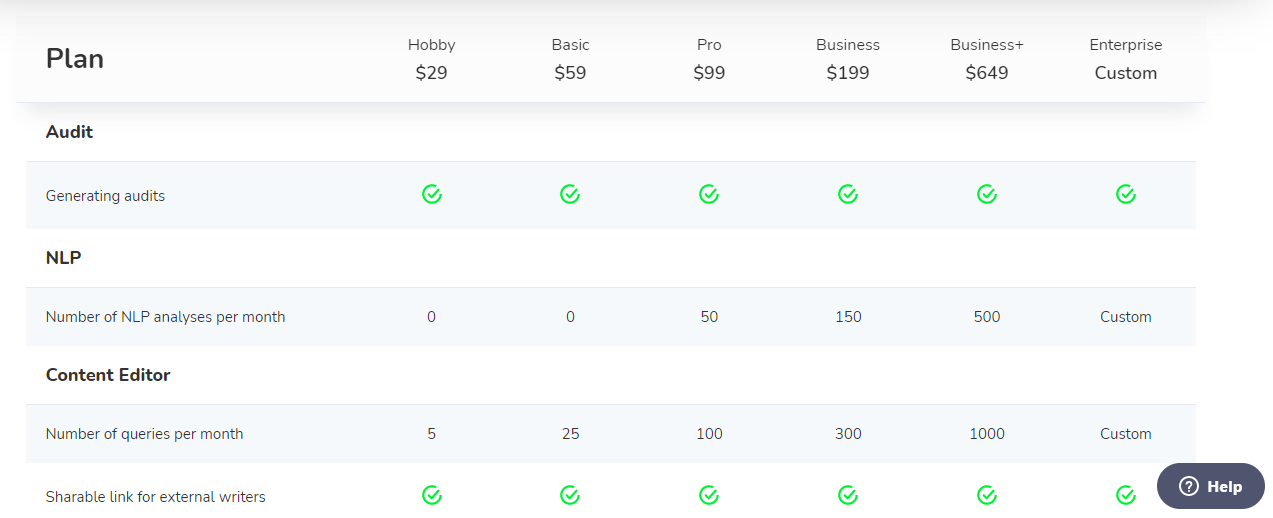 For the most part, Surfer provides the same on-page SEO tools from their cheapest plan to the top-tier one. The difference between the plans will be on the limitations of each.
Features
Keyword Research
The Keyword Research tool of Surfer SEO is an upgraded version of Google Keyword Planner. It can give you phrases and other relevant keywords that pages on the SERP are ranking for. They will fall either under regular search terms or questions.
The keyword suggestions provided by Surfer come with search volume and level of relevance. This is very helpful in identifying the best keywords to add to your content and rank higher.
SEO Audit Tool
This page optimizer pro tool of Surfer SEO allows you to accomplish a lot in terms of improving your old content and pages. The way that this works is by helping you find SEO errors and areas that need improvement.
This incredible tool gives you a detailed analysis of your content. Plus, uses your top competitors' data to provide practical and actionable steps.
Surfer Content Editor
Surfer SEO Content Editor Tool is essential creating new and optimized content. It does not require any technical knowledge, so anyone can use it! The tool helps you create valuable, unique, and relevant content that will rank on search engines.
All you need to do is type in your keyword, and Surfer SEO will give you a list of your competitors. Once you choose your competitors, the tool will provide you with accurate and competitive suggestions to help your blog post stand out. Some examples are word count, number of headings and images, and keyword density.
You can use this tool as an extension on Google Docs.
Learn more about the Surfer SEO Content Editor by clicking here.
Share links to external writers
No need to pay an extra amount to give access to the suggestions provided by the Content Editor. You can easily share the link with your writer.
Content Planner

Surfer SEO helps you strategize your content for months ahead just by giving your seed keyword. It will provide you with various ideas for content with keywords grouped together by topic.
What's more? It provides you with the search intent of the topic suggestions. It will be easier to decide what kind of content best fits the needs of your future readers.
SERP Analyzer Tool
Surfer SEO makes it easier for you to beat your top competitors on search results without solely relying on the "best SEO practices." It provides you with factual data taken from 50 top-ranking pages and 500+ ranking factors. Some ranking factors are page speed, content length, referring URLs, and domains.
After analyzing the data, it will show you information that you can use to outrank your competitors.
NLP Analysis
NLP means Natural Language Processing, and it helps you create better and friendly content for the search engine. NLP is an element of artificial intelligence and allows computers to interpret human language.
Pros
Loads of data to work with
Content Editor Helps User Achieve SEO-Driven Pages
Exporting data is a breeze
Cons
Daily quota limits a drag
Surfer SEO is the gold standard of content optimization tools. Its Content Editor has come a long way and is one of the best of its kind – its Content Score and Google Gdocs/WordPress integration allow you to streamline your SEO content creation to a tee. Its Content Planner allows you to audit websites and brainstorm for content ideas. It's simply the most complete SEO content tool you'll find in the market!
Pricing Plan's Limits
Hobby – $29/mo.
All features are available on the Hobby plan except the NLP. Here's what you can do with this plan and the limitations.
Audit up to 10 URLs and pages a month.
Create up to 5 new content a month.
Analyze 5 keywords or URLs a day.
View your competitors' content score only.
Live chat support only.
Best for
Newbie content writers doing less than five articles a month.
Customers testing which app is the best for on-page SEO.
Basic – $59/month
This plan is almost the same as the Hobby plan as it doesn't include NLP. But it has a higher credit limit.
Create and edit up to 25 optimized content a month.
Use SEO audit for up to 50 URLs and pages a month.
View your competitors' domain and content score.
Run up to 15 keywords and URLs on SERP Analyzer.
Live chat support and personal walkthrough.
You can schedule a call with the Surfer SEO team, and they'll guide you on how to use and maximize the app.
Best for
Business owners with a small business website.
Content writers, SEO specialists, and SEO agencies with 1-2 clients.
Pro – $99/mo.
You can enjoy all features above plus NLP.
Limit
100 credit limit a month for Content Editor.
Audit up to 200 pages/mo.
50 NLP credits a month.
Analyze up to 50 pages and keywords a day.
Live chat support and personal walkthrough.
Best for:
SEO content writers working for multiple clients.
SEO agencies with 2-3 clients.
Small to medium-sized business owners.
Business – $199/mo.
Pro features plus white-labeling. Surfer SEO can provide you with a detailed report that you can present to your clients to strengthen your brand.
600 credit limit a month for SEO Audit.
Create up to 300 new and optimized content.
Get 150 NLP credits a month.
Use SERP Analyzer up to 100 times a day.
Best for
Medium to large-sized business owners aiming to produce more content for their audience.
SEO agencies and marketers serving 4-5 medium-sized companies.
SEO writer handling multiple and big clients.
(NEW!) Business+ -$649/mo.
Like the Business plan but bigger credit limit!
Create 1,000 new and optimized content a month.
Improve up to 2,000 existing content using SEO Audit.
Analyze up to 300 pages a day.
Use up to 500 NLP points a month.
Best for
Large-sized businesses with a lot of existing content.
SEO agencies dealing with more than 5 medium-sized to large-sized clients.
Enterprise
Not satisfied with the Surfer SEO pricing and limits above? Talk to Surfer's team, and they can offer you a customized plan for your needs.
7-day money-back guarantee
Contact or email Surfer at support@surferseo.com within 7 days if you're not happy with your purchase. They'll return your money, no questions asked!
Conclusion
If you are considering using a search engine optimization app for your business or clients, Surfer SEO is a great option. The interface is easy to use! The suggestions and data you'll get from the tool are also superb.
View more details about this tool on our Surfer review or experience it firsthand for only