KWFinder is a keyword analysis tool praised by many when it comes to keyword research and site optimization. But there's another thing that makes KWFinder better than some of its competitors – affordable pricing plans.
In this post, we'll review the cost of this keyword research tool, features, limits, and functions of each plan, and who will benefit the most from them.
For a detailed post, you can read this KWFinder review.
KWFinder Features
Keyword Lookups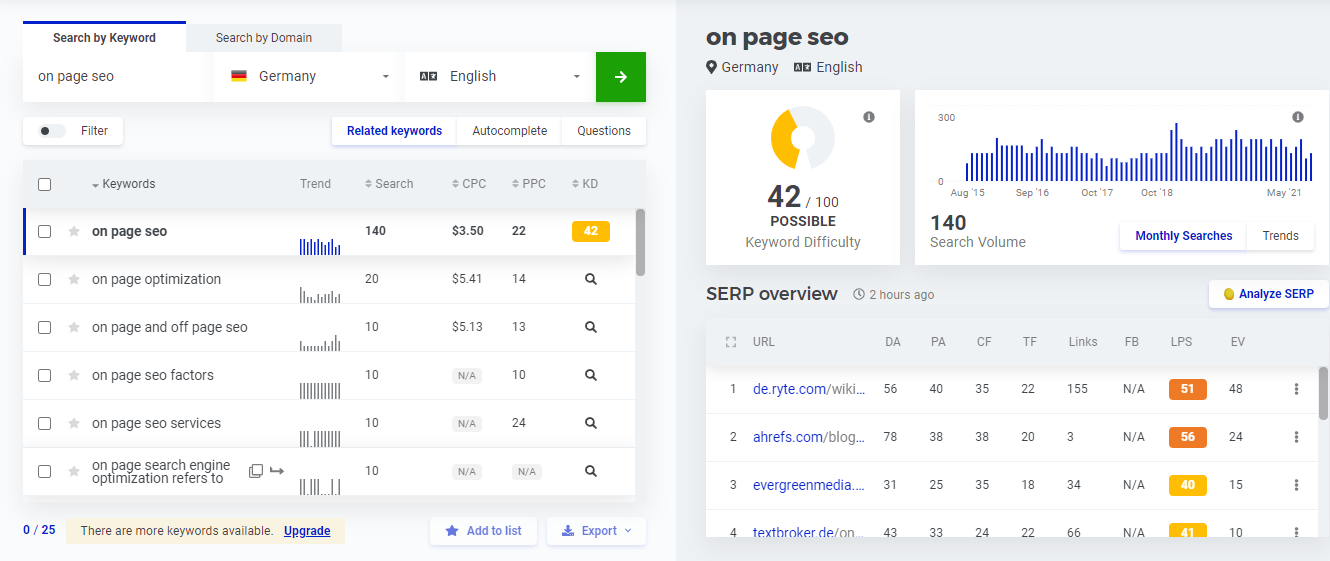 KWFinder is an excellent alternative for the free Google Keyword Planner. Although KWFinder isn't free anymore, the price is still reasonable. And it gives more accurate keyword research data compared to the tool mentioned above.
For example, instead of seeing the exact search volumes of the keywords, Google only shows you the estimated range. It is not as helpful as seeing the actual search volume on your results.
This is where KWFinder becomes a better option. And since you'll get (almost) the same features and functions on all plans, let's discuss them first.
KWFinder lets you do traditional keyword research faster as it provides all the things you need in just one search. Just do a simple seed keyword search. Then, KWFinder will provide data of that seed keyword along with related keywords to target on the search results.
You can also get precise local search results as you can choose the country and language for a particular keyword.
It will show you all necessary data such as:
SEO difficulty score of your seed keyword
SERP overview
average monthly search volume of your seed keyword and suggested keywords
accurate keyword difficulty score of the seed keyword and related keywords
search volume trend
cost per click
pay per click
Site/Domain Lookups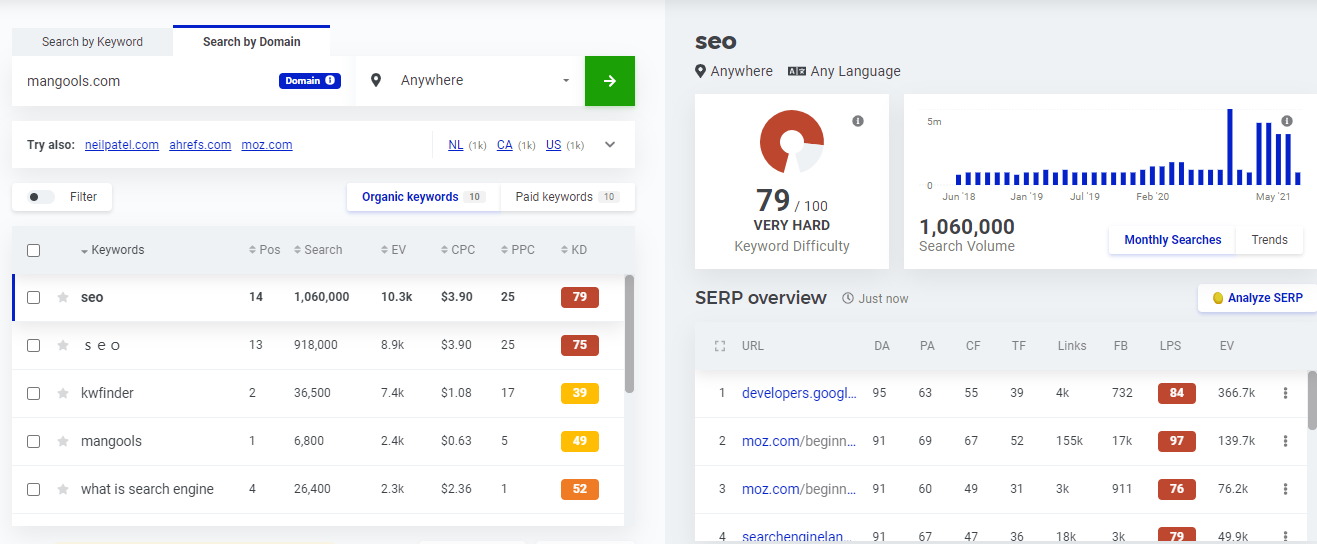 KWFinder also lets you spy on your competitors.
How? Through domain or site lookup.
Mangools will provide you with the list of paid and organic keywords that your competitor is ranking for. Plus essential details such as keyword position, keyword difficulty, estimated visits per month, etc.
The information provided by this tool can help you improve your organic traffic and ranking. You can discover long-tail keywords with low SEO difficulty to target. And also see the best keywords your competitor is using.
Included SEO Tools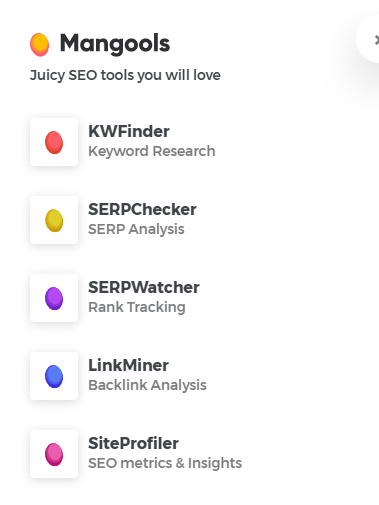 Note that in all of the pricing plans, you'll not only get KWFinder but also have access to the other four SEO tools:
SERPChecker. An analysis tool that identifies your competitor's strengths and weaknesses. It'll also help you create a rich snippet for a higher CTR.
SERPWatcher. Shows you a day-to-day ranking of your website. Allows you to track the ranking of your keywords and identify which are top gainers and top losers.
LinkMiner. This is a backlink analysis tool. It helps you find the best backlinks from your competitors and use them to build your page authority. The tool will also let you save the URLs you'd like to use in the future.
SiteProfiler. Lets you determine the domain authority of any website. It will give you essential data such as backlink profile, your competitor's most popular content, and a list of other potential competitors.
Pros Title
Lightweight and ultra-fast
Easy to use
Diverse SEO metrics
Allows multiple logins
KWFinder makes keyword research very, very simple to a fault. Whether you're a newbie or professional, KWFinder delivers results and loads data at an impeccable speed. It also helps that each app links together seamlessly with one another to produce a seamless workflow in not only researching for the best keywords but analyzing SERPs as well as spying on backlinks too!
Free Trial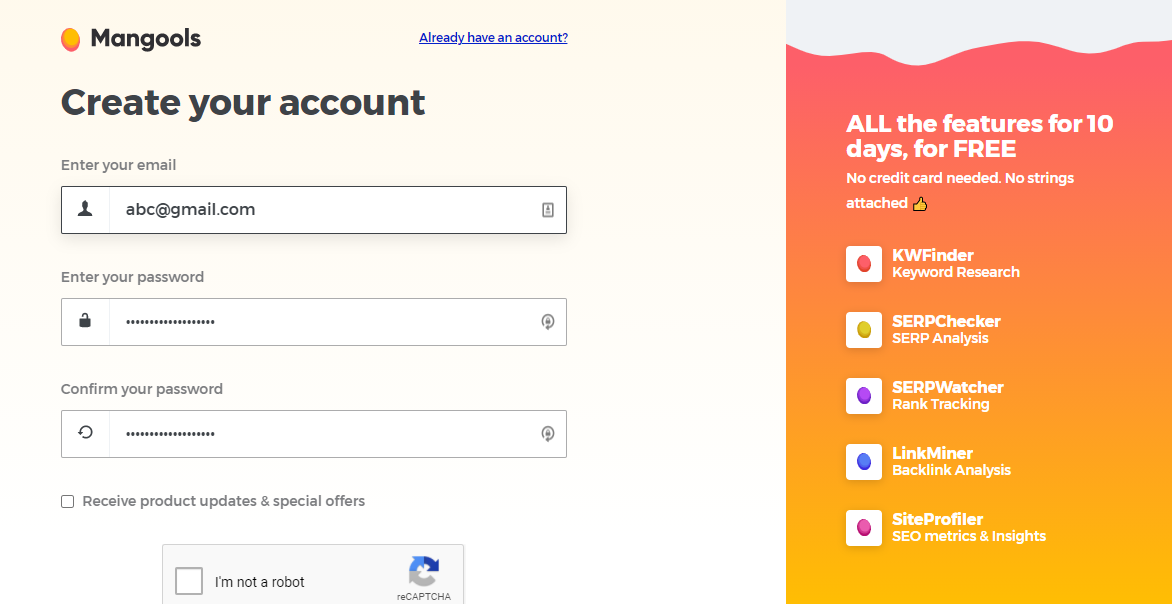 KWFinder used to have a free version. But now they only offer a free 10-day trial.
The good side is they won't ask for your credit card information. The bad side? The trial plan is VERY limited.
Most keyword research tools give you the same limit as your chosen plan for free during the trial period. But that's not the case for KWFinder, as it has its own set of limitations.
Features & Limits
You are only allowed to do five keywords, SERP, and site lookups in 24 hours.
When you do a keyword search, the SERP result will automatically show. That's counted as one lookup for both keyword and SERP.
The free trial also lets you see 2,000 backlinks, 25 suggested target keywords, and 10 competitor keywords per search. You can also track up to 10 keywords daily using the SERPWatcher.
KWFinder Pricing & Plans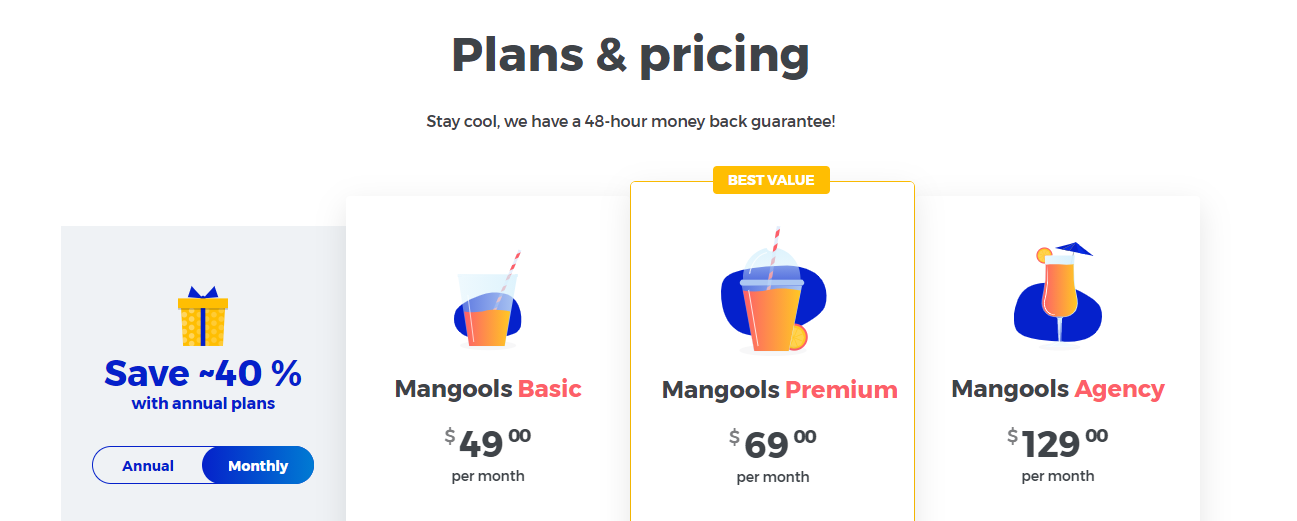 After the trial, you can continue and select from their existing plans. Basic, Premium, and Agency.
Let's discuss each plan further.
Mangools Basic ($49.00/month)
Features & Limits
You are given up to 100 keywords and SERP lookups for the Basic plan, plus 20 site lookups that replenish every 24 hours.
Per keyword and SERP lookup, you'll get 200 keyword suggestions and 25 competitor keywords.
You can monitor up to 200 keywords daily and get 100,000 backlink rows monthly.
The limitations of this plan are you can't do simultaneous logins and you'll only see up to 200 keyword suggestions out of 700.
Ideal For: Freelancers handling one to two small websites. And for entrepreneurs or writers just starting out with their website.
Premium ($69.00/mo)
Features & Limits
For a $10 difference, you'll get way more in premium than the basic plan of Mangools.
You're allowed to do 500 SERP and keyword lookups a day. You can also search up to 70 websites every 24 hours. Plus, get 700 keyword suggestions and UNLIMITED competitor keywords per search.
You're also allowed to track 700 keywords daily and get 500,000 backlink rows monthly.
What's more? You can do up to three simultaneous logins on your account.
Ideal For: Small-sized businesses aiming to build more authority online, medium-sized businesses, marketing agencies, and SEO specialists handling multiple and bigger sites.
Agency ($129.00/mo)
Features & Limits
This is the highest tier on Mangools' pricing plans.
It allows you to do up to 1,200 SERP and keyword searches per 24 hours and search up to 150 domains a day. Plus, you can track up to 1,500 keywords daily and get 1,200,000 backlink rows monthly.
Per search, you'll get 700 keyword suggestions and unlimited competitor keywords. On top of that, you are allowed to do 10 simultaneous logins.
Ideal For: Marketing or SEO agencies dealing with multiple, medium-sized websites all at once.
KWFinder Discount
If you'd like to get a huge discount, you can opt for annual billing to enjoy 40% off. Save up to $589 per year, depending on your chosen plan.
Basic – $358.80/year (29.90/month)
Premium – $478.80/year (39.90/month)
Agency – $958.80/year (79.90/month)
Early Bird Discount!
As of the writing, they're also giving away an early bird discount for this keyword tool. You'll be offered a 10% lifetime discount on top of the 40% discount. This will only show when you subscribe to KWfinder's free trial.
Conclusion
KWFinder is definitely worth trying. This tool is perfect for discovering long-tail keywords to target. Plus, you get to use other SEO tools from Mangools without paying extra fees. Compared to its competitors, this is a superb deal.
Start with your 10-day free trial, and don't miss their special offer today!